Santa Claus Village is open every day of the year! Meet Santa Claus at Santa Claus Office, cross the Arctic Circle line or just enjoy the Christmas spirit – all year round!
You can meet Santa Claus and cross the magical Arctic Circle every day at the Santa Claus Village in Rovaniemi.
There are many souvenir shops as well as Santa's Main Post Office, programme service companies and cafes and restaurants in the Santa Claus Village. And of course, Santa is there too, in his chamber every day of the year.
Santa Claus Village is situated 8 km to the north of Rovaniemi direction Ivalo along highway number 4. You can reach the Arctic Circle also easily by local bus and Santa Claus Bus:
Local bus number 8:
(timetable 16.10.2023-2.6.2024)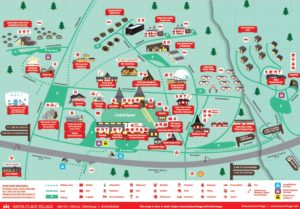 Santa Claus Village map as PDF
Santa Claus Village on the Arctic Circle is like a real village offering dreamy services and amenities
Touring around the village is magical simply for the charming curb appeal of the accommodations. Take a walk on these magical little paths and village roads and end up on the central square surrounded by boutiques, where all the magic culminates to the crossing of the Arctic Circle. There are so many things on top of meeting Santa Claus in Santa Claus Office you can do in Santa Claus Village:
choose form a variety of magical accommodations
enjoy arctic delicacies at local restaurants and cafes
join the daily activities
visit the Santa Claus' Main Post office
be amazed by Snowman World Winter Zone
visit the charming red Christmas Cottage of Mrs. Santa Claus'
get to know the historical Roosevelt Cottage
The Village is a home to many cute animals
Elf´s Farmyard
Arctic Circle Husky Park
Santa Claus Reindeer
Santa Claus Village offers many activity companies providing Lapland experiences and fun for the whole family
Santa Claus Holiday Village activities
Arctic Circle Snowmobile Park
Santa's Adventures
Wild Nordic Finland
Sunny Safari
Bearhill Husky
Santa Claus Village is full of shopping opportunities
boutiques filled with Finnish design and handicrafts
many factory shops and boutiques offering Marttiini,  Marimekko, Iittala, Pentik desing products and local handicrafts
Christmas House Shop
The Santa Claus Village accommodation offering is simply magical
Santa Claus Holiday Village
Santa Claus Holiday Suites
Glass Resort
Santa´s Igloos Arctic Circle
Nova Skyland Hotel
The Santa Claus Village is home of Arctic cuisine
Loft Cafe
Santamus dinner experience
Lapland Restaurant Kotahovi
Three Elves Restaurant
Santa's Cuisine
Santa´s Pizza & Burger
Glass Resort Restaurant
Nova Skyland restaurant
Christmas House Restaurant & Coffee Bar
Snowman World  Snow Restaurant and Ice Bar (Snowy season)
Contact information
Company
Santa Claus Village
Address
Arctic Circle
96930 Arctic Circle, Rovaniemi
Availability
Jan
,
Feb
,
Mar
,
Apr
,
May
,
Jun
,
Jul
,
Aug
,
Sep
,
Oct
,
Nov
,
Dec
Opening hours
More details about opening hours
Santa Claus Village is open every day of the year!

Opening hours for companies in Santa Claus Village you can find here: www.santaclausvillage.info/opening-hours-days/
Pricing
Price
There is no entrance fee to the Santa Claus Village.