The nearest point of the Ounasvaara Winter Trail is 1.6 km east of the Rovaniemi city centre.
Ounasvaara is a famous sports centre and also a year-round recreation area near the city centre, with marked and maintained trails and several great vantage points. In the winter, Ounasvaara with Ounasvaara Ski Resort is a great destination, for example, to downhill or cross-country ski, to speed down the toboggan track, or go snowshoeing. In the summer, Ounasvaara offers a great setting for hiking, not to mention the thrilling summer sled track. Here you can also find SantaSport – a center for wellbeing, sports and recreation.
In the beginning of the winter season, the Ounasvaara Winter Trail is groomed by snowmobile for hikers. On the trail, you can admire the beauty of the wintery spruce forests and the rocky landscape on top of Ounasvaara.
The trail is marked and equipped with information boards, and it follows the Ounasvaara Nature Trail part of the way. Please note the different trail markings of the two trails. The one-way length of the circular trail and the connecting trails are around 6 km in total.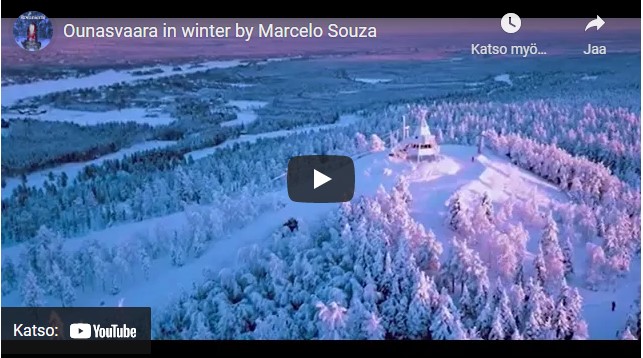 There is two lean-tos and an observation tower along the winter trail on the rocky western hillside of Ounasvaara, amidst a pine forest at an altitude of around 160 m above sea level. The tower offers magnificent views over the city centre and the Kemijoki River.
The Ounasvaara Winter Trail can be accessed at several points: the starting point nearest the city centre is after crossing the Jätkänkynttilä Bridge and Jäämerentie, to the left from the cycle path and up to Ounasvaara.
Klick and read more instructions by Etiäinen!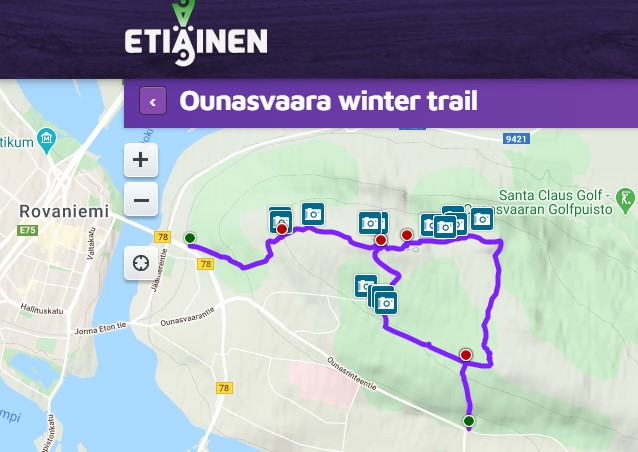 Contact information
Availability
Jan
,
Feb
,
Mar
,
Apr
,
May
,
Jun
,
Jul
,
Aug
,
Sep
,
Oct
,
Nov
,
Dec