features
Discover The Scenic Beauty of Ounasjoki's Deltas in Rovaniemi, Lapland
Rovaniemi summer treats visitors with authentic pleasures. The Ounasjoki River (or Ounas River) flows through Rovaniemi city center in Lapland, Finland, and is thus an easy, photogenic and popular summer day destination with its sandy deltas. Ounasjoki River is the largest river located entirely within Finland's borders. It connects to Kemijoki river in Rovaniemi city center. Fresh Arctic waters play a significant role in Rovaniemi's landscape an in life of locals. In history, rivers have brought livelihood to Rovaniemi people. Ounasjoki's deltas are extremely beautiful combination of lush meadowland and landscape dominated by ancient mountains, fjells.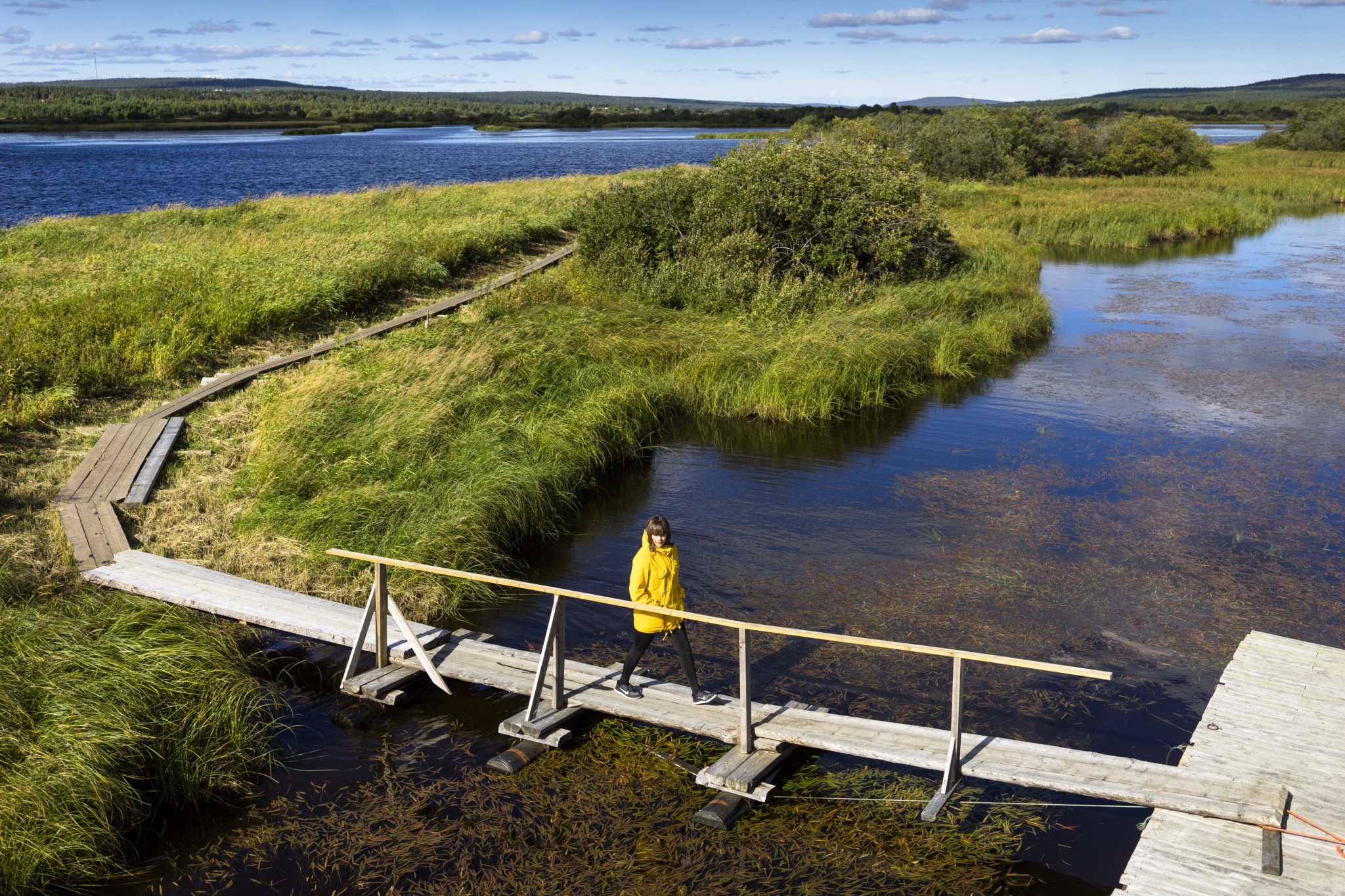 Koivusaari – A dream destination for day hikes
What makes Ounasjoki river so lovely is its sandy deltas, that slither on water. Koivusaari Nature Trail is located on a beautiful island of Koivusaari just where Kemijoki river and Ounasjoki river unite. Koivusaari Nature Trail is located just a few kilometers from Rovaniemi city center and it offers approximately a three kilometers long easy duckboard for walking. In Koivusaari, there's also a bird-watching tower – the island is well known for its birdwatching possibilities. Best time for birdwatching is in May-June and later in summer in July-August. Koivusaari is also a popular destination for local photographers.
Experience culture of Arctic region and Arctic garden in one place
One of the most striking landmarks in Rovaniemi is science center and museum Arktikum's glass tube. The famous glass tube is pointing to north like a finger telling you from where to look the Northern Lights when it's dark. On summer, the place gives you extraordinary view over Ounasjoki river. Arktikum is the place to familiarize with Arctic culture, history and lifestyle. Arktikum is surrounded by Arctic Garden, approximately seven hectares wide arboretum. Along the riverbank you'll find intimate little sandy beaches that are relaxing spots for spending a summer day in Rovaniemi.
Stand up and paddle along Ounasjoki river's deltas
In recent years, SUP-boards have become a common way to experience Arctic waters. Ounasjoki deltas are quite low-watered and you'll find plenty sandy beaches from there. In summer, you can either rent a SUP-board or book a guided SUP-board tour – Tours run also in night time, under the Midnight Sun! The Midnight Sun shines in Rovaniemi from June until July making the nights full of lights. Locals gather on sandy deltas during the most sunny days with their kayaks, SUP-boards and boats.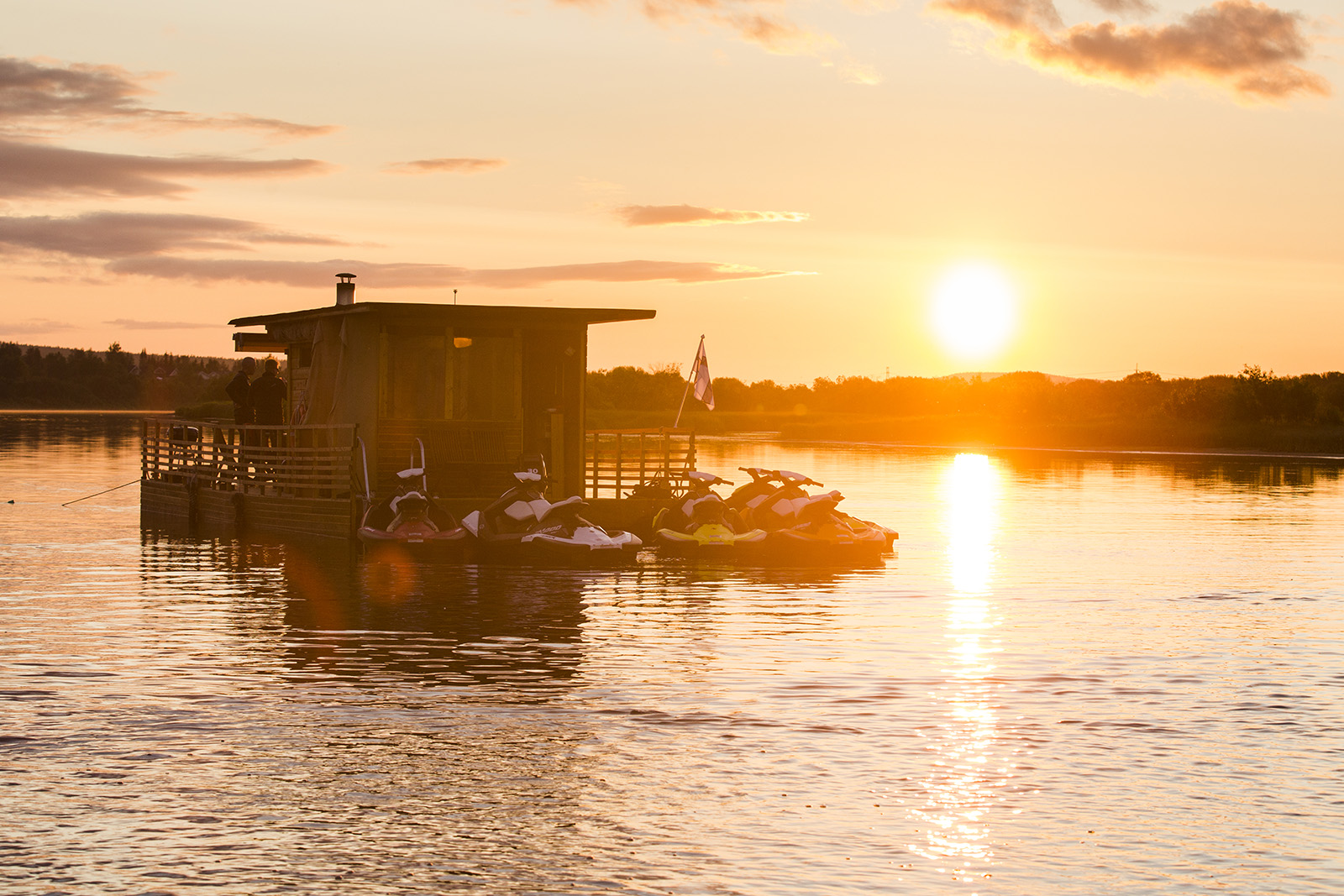 Welcome on board! Experience Finnish sauna in sauna ferry m/s Erkin Arkki
M/s Erkin Arkki is a classic way to experience Finnish sauna in a unique way: on river. Erkin Arkki has a traditional wooden Finnish sauna on it and you can steam your problems away while sailing on river. The ferry makes a stop in Ounasjoki river's deltas and you can test the freshness of the Arctic water of ours by swimming in gently floating river waters. Erkin Arkki operates from June until October. Another way to discover the deltas and rivers of Rovaniemi is on a riverboat cruise or on a riverboat cruise that takes you to a reindeer or to a husky farm.
Get festive in Ounaspaviljonki
From the north side of Ounasjoki you'll find Ounaspaviljonki, a place where many summer festivals take place in Rovaniemi, Lapland. In summer, such events as Iskelmäkesä Rovaniemi festival, Rock in the City festival and of course Simerock, which has become one of the highlight of Rovaniemi's summer, take place there.
Book summer activities now
Summer Excursion to the Amethyst Mine in Luosto
Provided by Arctic Circle Snowmobile Park
Summer Excursion to the Amethyst Mine in Luosto
Lampivaara Amethyst mine will be the perfect Lappish adventure for you!
Quad Bike Safari in the Wilderness (ATV)
Provided by Lapland Welcome Ltd
Quad Bike Safari in the Wilderness (ATV)
Come and experience the nature by driving an ATV.
Rovaniemi – Ranua Wildlife Park transfer
Provided by Menevä Taxis
Rovaniemi – Ranua Wildlife Park transfer
Rovaniemi – Ranua Wildlife Park – Rovaniemi transfer for 1-4 people
ARCTIC CIRCLE FISHING
Provided by Helios Tour
ARCTIC CIRCLE FISHING
There is a good chance of catching grayling, perch or pike when fishing here in Lapland. Tour is scheduled on evening time when the fishes are active.