features
Two Days in Rovaniemi – 10 Things You Don't Want to Miss Out
You plan to visit Rovaniemi in Lapland, Finland during the summer but you only have 48 hours? Are you wondering what can you do in the Official Hometown of Santa Claus when there are no snow nor Northern Lights and you don't even have the chance to participate in the popular winter activities? 'Maybe 48 hours would be too much? Is it worth visiting Rovaniemi during the summer at all?', you might ask yourself. Well, the answer is definitely YES. We give you nine good reasons for that. After reading this article you might feel you want to extend your stay, so you can try them all.
1. Take Care of The Christmas Practicalities in Time
First of all, it's good that you know: Santa is never on holiday. He is ready to meet you every day in Santa Claus Village. During the summer season you don't have to stand in the queue to discuss the Christmas wishes of yours with him. Once you are there, why not going to Santa Claus Main Post Office too? Write your cards well ahead and Santa's little helpers will make sure that the cards will be delivered just in time for Christmas.
2. Arrange Your Visit to Coincide with an Event
Are you a sports fan? Come to run a Lapland Marathon under the Midnight Sun in July or watch the Power Cup volleyball tournament in June in Rovaniemi. Do you like rock music? Let's have a party in August in SimeRock. Fares and markets are what you like? You will enjoy the Old Market Square Carnival. Check out our event calendar and arrange your visit to coincide with one of them.
3. Explore the City Center, Local History, and Art
Urban Rovaniemi is easy to explore on foot within a short time. Did you know that the Rovaniemi town plan is shaped like a reindeer's head and antlers? Explore Rovaniemi's architecture and landmarks on your own with the help of a guide route available on the Citynomadi app. Combine your tour with visiting museums. With the Culture Pass you can visit the most essential cultural establishments in Rovaniemi: the Arctic science center and museum Arktikum, the forest-themed science center Pilke and the Korundi House of Culture.
4. Spend an Active Day in Ounasvaara
It's one of the most wonderful things in Rovaniemi, that while enjoying the comfort of the city, you can easily gain access to the Arctic nature too. The Ounasvaara outdoor area lies only a brief walk away from Rovaniemi city center. The place offers excellent hiking paths, magnificent nature and great views over the Rovaniemi area in all directions. Rent a bike and try one of the guided mountain-biking tours, visit the local sports center, Santasport or try the green fields of Santa Claus Golf. For a bit more action visit Huima Action Park. If you want to take it easy, walk along the Ounasvaara Winter Trail that is open also in summer. It takes only 15 minutes and from downtown, you can reach a sightseeing tower. While you are there in the middle of nature admiring the Midnight Sun, it will be hard to believe that you are still in the city.
5. Get Aboard and Explore the Rivers
Rovaniemi is a city of two big rivers: River Kemijoki and River Ounasjoki. So why not hire an easy to pilot boat and take a cruise up the river? Go for a late evening river cruise, have a drink and enjoy the view and the sun shining around the clock. If you want more action, hop on a riverboat, go paddling, jet skiing or white-water rafting. Another thing to do is a paddling trip in a canoe that streams you from a husky home to a reindeer farm.
6. Eat Outdoors
Rovaniemi is surrounded by nature, and Lapland has some of the cleanest, freshest air in the world. Many trails are easy to access, and you'll often find a laavu (lean-to) with a supply of wood for the fire pit. Many of these grilling spots are located along the riverbank providing a picturesque view besides your meal. Finnish shops have a wide range of different kind of sausages (grillimakkara) and other delicacies to grill. Buy some and go grilling. Another way of eating outdoors is berry picking (and eating). The season starts in July with arctic blueberries and continues until the first frosty nights when the cranberries are at their best. The easiest way to experience the very Lappish tradition of berry picking on a guided tour. Summer is also the time of terrace life. You'll find plenty open terraces along the main street Koskikatu in city center and a combo of a summer food restaurant and sauna by the river Kemijoki, where Kesärafla Sauna is located.
7.  Take it Easy and Chill Out on the Beach
Turquoise water, palm trees and snow-white sand sound good but what's the special in it? How about laying on a sandy beach in the Arctic Circle? Getting a tan under the Midnight Sun? Doesn't it sound much cooler? During the summer the weather can turn warm in the Arctic Circle as well. That's when it comes handy that there are many small beaches around Rovaniemi. The nearest one is right opposite the city center near Lumberjack's Candle Bridge, but there are others near Arktikum, and a very kid-friendly one by Ounaspaviljonki (Ounas Pavilion).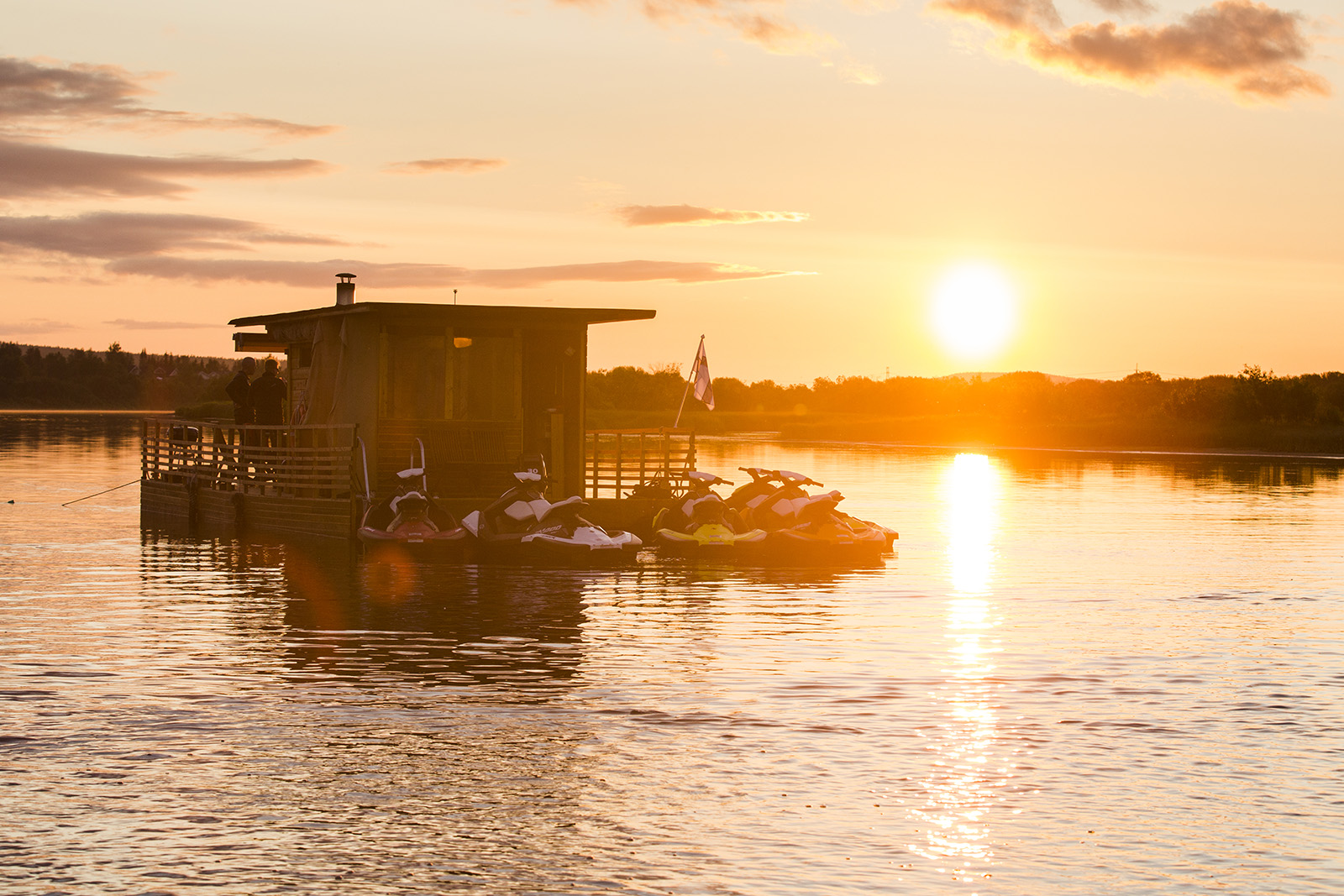 8. Go to Sauna
No matter if it is your first time in Finland or you keep coming back. You have a long vacation here or you can stay for only a few days. You are on a city break or you enjoy the countryside. Whether it is winter or summer. You must go to sauna! In the summertime, you can experience sauna in Rovaniemi, for example, at Kesärafla Sauna by the river Ounasjoki. B&B Kotitie offers an herbal sauna with a light spa treatment. You can also experience a classic Finnish sauna in a unique way if you rent a sauna ferry. m/s Erkin Arkki's ferry has a wooden sauna on it. You can steam your problems away while sailing on the river.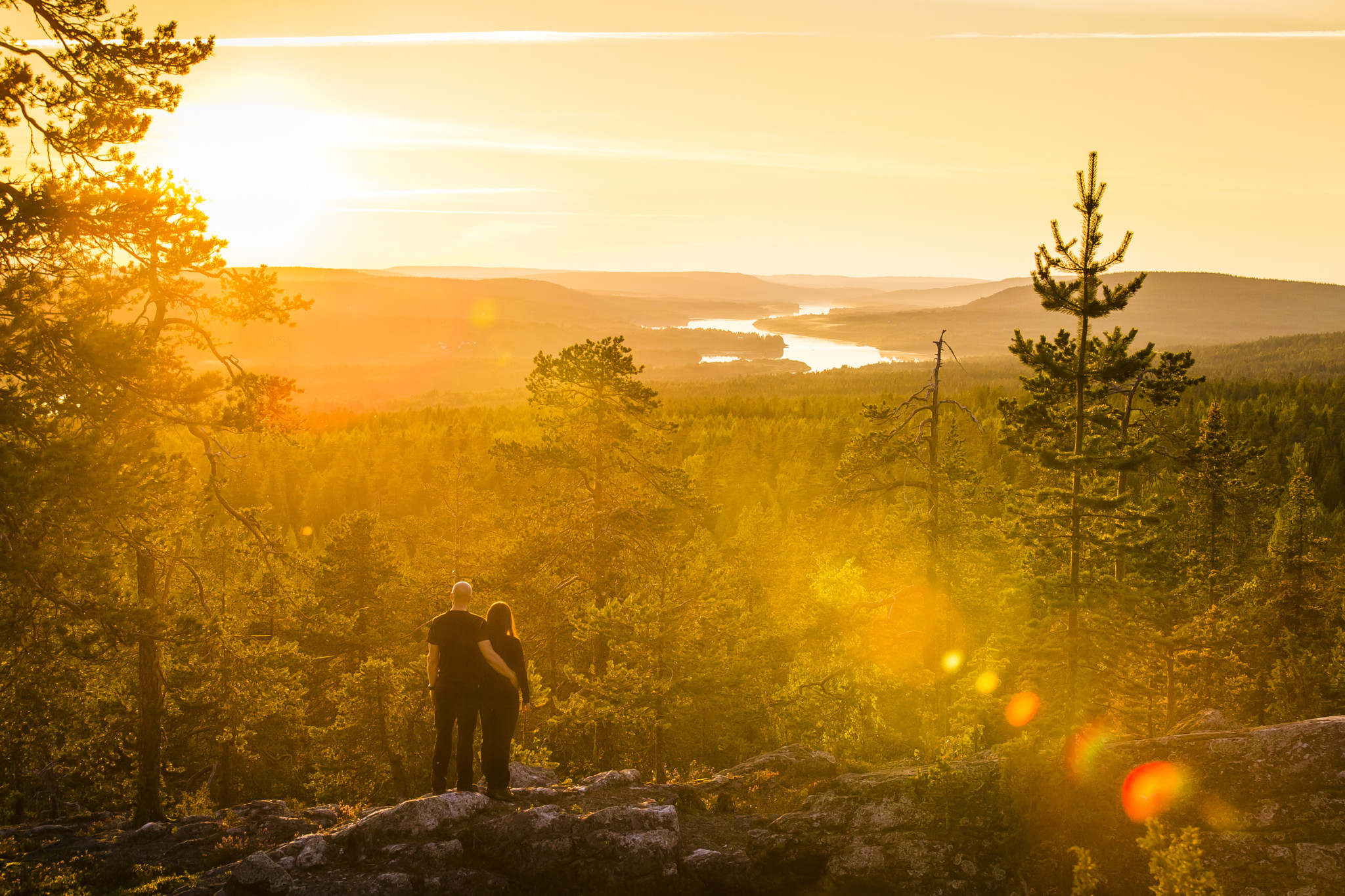 9. Enjoy the Midnight Sun
On the Arctic Circle, the sun officially stays above the horizon for a full 24 hours on the summer solstice, 21st or 22nd June. However, the Midnight Sun period in Rovaniemi lasts for a month, from 6th June to 7th July. But in practice, the nights are white throughout the summer from late May until early August. While planning your stay in Rovaniemi keep in mind that almost all the activities we mentioned above you can do during the evening or the night. This means there are 24 hours a day for activities! Another wonderful thing about the Midnight Sun is that the most ordinary stuff will feel special when you do it in daylight, during the night period.
10. Support the locals by choosing "Likiliike"
Support our local by shopping in their companies! "Liki" is a Finnish word meaning "close" or "near". "Liike" has a double meaning in Finnish: it can mean a movement or a shop. Thus "Likiliike" means local movement that brings together the local shops and entrepreneurs in Rovaniemi. Each company and shop that are part of the movement is marked with a Likiliike-sticker. Likiliike companies are at least 50 percent locally owned and company's headquarter has to be in Rovaniemi. There are more than 220 businesses around Rovaniemi that are part of Likiliike. You'll find items like hand made chocolate, coffee, hand made bijou, and much more.
Book summer activities now
Private Rovaniemi city & Santa Claus Village Tour
Provided by NortsaV Tours create opportunities to experience genuine Lapland.
Private Rovaniemi city & Santa Claus Village Tour
Get to know Rovaniemi city and meet Santa Claus at the Santa Claus Village on family-friendly private tour.
Fishing Trip by Boat
Provided by Lapland Welcome Ltd
Fishing Trip by Boat
Participate in a nice fishing trip where you can fish local fishes at the best fishing places of the region!
On the woods – day hike
Provided by Reindeer Journey
On the woods – day hike
Short hike on to the old forests and hills, viewing and listening the nature. You'll learn about local flora and fauna: to recognize the voices and tracks of the wild animals, the plants and their traditional use as natural medicines, spices and food.
Best of Rovaniemi – Guided city tour by car
Provided by Safartica Oy
Best of Rovaniemi – Guided city tour by car
Let us take you around to see the places where the locals like to take their friends and family, get to know your guide and local lifestyle.