features
Towards Sustainable Travel – Companies Taking Action in Rovaniemi, Lapland
In Lapland, Finland, Arctic nature is vulnerable and climate change influences the Arctic faster than any other area in the world. Many species are dependent on snow. Last year, even Santa Claus encouraged people to give a Christmas gift to nature by respecting it. We asked local Rovaniemi-based companies to give examples on how sustainability, environmentally beneficial solutions and habits are included into their everyday business.

Restaurant Nabo – Leading the way towards zero-waste
Rovaniemi's versatile food scene will soon get a long-waited addition: a restaurant that emphasizes vegetarian food, and more: it truly highlights sustainability in every process. Opening in November 2019, Restaurant Nabo will enrich Rovaniemi's food scene with a restaurant that highlights both vegetarian food and seasonality. Restaurant's interior design reuses and recycles building's old decoration, employees shirts are Pure Waste's (a Finnish clothing brand that uses material that would go waste otherwise), and recycling is made as carefully as it can be.
"We try to buy as local products as possible and from farmers that share the same values with us. We prefer small business owners and we try to learn the whole production process and find environmentally the least damaging options", Tuulia Repo and Antti Piiparinen, the entrepreneurs of Restaurant Nabo and Hostel Café Koti tell.
Repo says that company's carbon footprint is leading the way of thinking in business, but of course not every product comes from local farmers but from bigger wholesale. However, it's part of the ideology to buy only what is needed and nothing more. They also serve meat and fish, that mainly come from local partners.
"Of course we can choose the best possible products also from wholesale's selection. We also strive at collecting ingredients from nature and we wish that we can compost and grow our own herbs in the future", Repo continues.
Restaurant Nabo, Valtakatu 21, 96100 Rovaniemi, Finland
www.restaurantnabo.fi
Arctic Light Hotel – WWF Partner Company
Being a part of family-owned Arctic Hotel Collection, the Arctic Light Hotel in Valtakatu in Rovaniemi is a luxurious boutique hotel that has included nature-saving habits into its everyday process'. Disposable products are avoided and replaced if possible and as in many hotels nowadays, customers are encouraged not to change their towels every day to avoid unnecessary laundry. Also, ideation challenges are held to staff and the best ideas adopted into practice.
In addition, hotel's maintenance is using electric car for everyday tasks and hotel's customers are provided two Tesla Type 2 charging stations.
"Here at Arctic Light Hotel, we believe sustainability is a topic to be taken seriously. We feel that sustainable practices within the work environment are a necessary part of designing responsible services. Our current practices are headed in the right direction but we are also active in progressively integrating new habits into our daily processes", says Anna Filppa, Marketing Coordinator of Arctic Hotel Collection.
Arctic Light Hotel is the first WWF "friendship" hotel in Finland. The partnerships becomes visible in marketing and hotel's interior design that uses polar bear as a mascot. However, in practice it's about increasing the knowledge of climate change and its effects in the Arctic region. WWF gets five euros from each polar bear mascots sold in the hotel.
Arctic Light Hotel, Valtakatu 18, 96100 Rovaniemi, Finland
www.arcticlighthotel.fi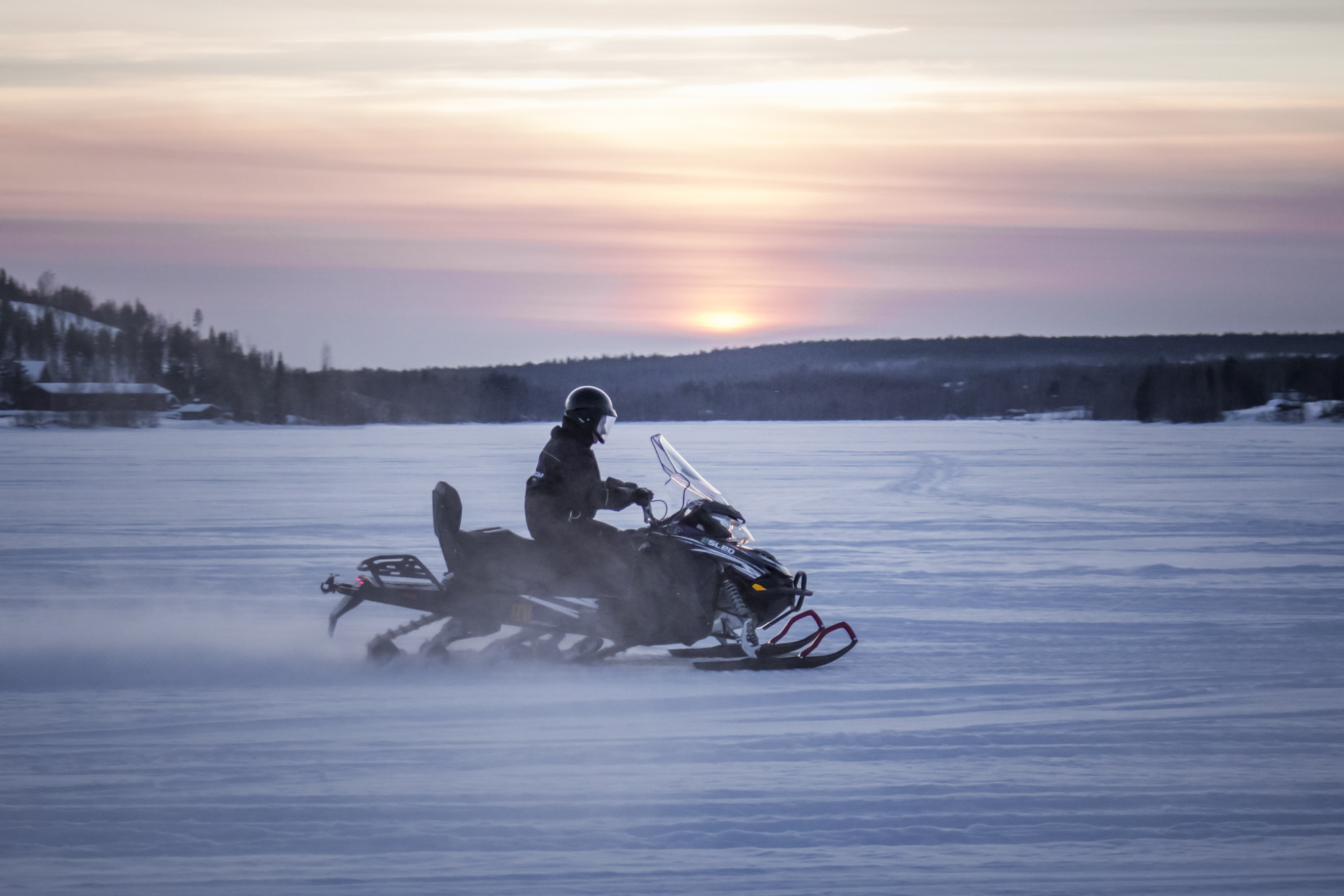 Aurora eMotion: Pushing Social Responsibility
The word "snowmobiling" doesn't relate easily to sustainability. But in Rovaniemi it does! Aurora Emotion is an engineering company that has created electric snowmobiles, eSleds, and the first electric snowmobile safari's in the world are run by eSleds in Rovaniemi, Lapland, Finland. The electric snowmobiles do not use gasoline at all and the company only uses green energy coming from their special electric charging points. The company is doing continuous development work with electric snowmobiles and is also developing a network of electric charging points in Lapland area.
Sustainable ideology goes beyond the vehicle:  "The energy we use is mostly local water power and from other renewable sources. We avoid fossil fuel-based electricity generation in our process", tells Olli Haavikko, co-founder and a long-term snowmobile professional.
During safaris not any plastic bags is used, nor is disposable plates or cutlery. The cutlery is washable Kupilka tableware which are made of 50% wood and 50% recycled plastic. Only local food is served and the company operates closely with local, small entrepreneurs.
"We also recycle, compost and try to minimize all waste. We want to increase the environmental awareness of our guests", tells Aurora Emotion's coordinator Mikko Kiirikki.
Aurora Emotion, Lehtoahontie 27, 97220 Rovaniemi
www.auroraemotion.com
Bearhill Husky – Towards carbon neutral business
In Bearhill Husky, the sled dogs work or practise through the year. Their owner Valentijn Beets explains that it's good for dogs to train year-round, as the dogs will always be in good shape. When Rovaniemi's high season starts in November, the dogs can pull sledges in following months without having repetitive strain injuries.
Keeping the kennel running year-round is one example of the actions that Beets and his wife Veronica Butinova have made to run the kennel sustainably.
By keeping the doors open almost every day, they don't need that much seasonal workforce, but can have six full time employees. Beets thinks that's also better for the dogs, as they get continuous care from familiar faces.
"I'm very bad at systems", Beets says.
"Therefore it's important that I can have staff that I know and trust to help me running the business."
Dogs are the heart of the business but Beets and Butinova are building a sustainable ecosystem around them. They've bought 150 hectares of forests nearby where they will be running the dogs in the future. The only thing missing now is forest road that the sled dogs could use.
Building the road will be a big investment to Bearhill Husky. In addition to building a forest road, Beets is planning to do nothing to his forests.
"We try to live carbon neutral live and keeping the rest of the forest untouched means that they'll remain as carbon stocks, when the trees storage carbon", Beets says.
Bearhill Husky, Sinettäjärventie 22, 97220 Rovaniemi
www.bearhillhusky.com
Arctic Design Shop – Design from the Arctic, made in Finland
Change starts from universities, right? Arctic Design Shop was first opened at the University of Lapland, being a market platform for art students to sell and showcase their products. Approximately two years ago the shop moved from the university to Rovaniemi city center, to Valtakatu, where Tea Latvala, the artist and founder of Teatiamo, runs the famous shop. Big parts of Arctic Design Shop's selection is still made by university students and alumnis, but it has widened up to 100 artists mainly from Lapland.
"Our job is still to present students and give them a place to sell their art and design. It is important to us to be an easy gateway for new designers to enter to market. We have met most of our designers personally and listened the stories behind their products", tells Henna Rinta-Säntti, Business Developer.
Also the wooden sex toys by Tea Latvala can be found from the shop. All the dildos and anal plugs are handmade with care and tender.
Arctic Design Shop, Valtakatu 24, 96200, Rovaniemi
www.arcticdesignshop.com
Sustainable Travel Finland is a trademark and a concrete toolkit for travel destinations. It helps Finland's travel destinations to adopt sustainable procedures and to make sustainable choices in their business'. Climate change is the biggest global thread – we consume natural resources faster than they can renew. Climate change defines also where travelers go in future – many of our activities are dependent on weather and here in Rovaniemi especially dependent on snow.