features
Rovaniemi the City of Reindeer – the Very Best Places to Meet Them
Even little children know that reindeer are known as Santa Claus' most important helpers. It's just natural that you can come across them everywhere in The Official Hometown of Santa Claus, Rovaniemi. It's not only the children but also adults who get excited about the possibility of meeting them. These friendly, furry guys are impossible to miss while visiting Rovaniemi, in Lapland, Finland. But just to make sure that you won't make through your Rovaniemi trip without seeing some, here we collected a few bulletproof tips where to get familiar with reindeer during your stay.
Spotting Reindeer from the Sky
If you arrive in Rovaniemi by airplane, theoretically you could already see a reindeer from the sky before you land. No, we don't mean Santa's flying reindeer now. We talk about the so-called Reindeer Antler Plan, created by the famous Finnish architect and designer Alvar Aalto. The city was completely burnt down at the end of World War II and the rebuilding was based on Aalto's plans. According to them, the main streets were designed in the shape of a reindeer's head and antlers.
After stepping out of the airport the first thing what you can see is a group of flying reindeer. The Reindeer of Christmas Land sculpture was made in 1995-96 by Urpo Kärri and welcomes the arriving tourists ever since. These eight striking reindeer are the symbol of tourism trade in Rovaniemi. They also greet you from the sides of local buses called Linkkari.
Walking Down the Streets
It's enough to walk around the city center and you will meet different kinds of reindeer sculptures or other forms of pieces of art.  For example Bella, the colorful reindeer greets visitors in front of Arctic Light Hotel. You can find her friends in front of the city library or on the crossroads of Aallonkatu and Valtakatu. You can also see reindeer on graffiti while walking by the riverbank of Kemijoki.
Walk through the Lumberjack's Candle Bridge up to Ounasvaara and admire the breathtaking view while enjoying one of the many outdoor activities. It's very possible that during your stay you will also see some of the so-called city reindeer wandering around.
See the Reindeer Herders' Life in Pictures
Arktikum museum and science center is one of the most remarkable buildings of Rovaniemi. It's worth visiting merely for the sake of walking through the iconic glass tunnel. It's also a good place to learn a lot about the history of people, animals – included reindeer and reindeer herders – and nature of the northernmost region of the world.
The other outstanding museum of the city, Korundi, is the house of modern culture. But also, a place to familiarize yourself with the history of Rovaniemi and Lapland. Once you are there, take a look at the vibrant paintings of the native painter and visual artist Andreas Alariesto. His mission was to record and preserve the folk tradition and lifestyle of the old Lapland before it would completely fade away. His colorful paintings have a strong expressive power that immediately grabs your attention and pulls you into the authentic feeling and romance of Lapland of yesteryear.
Make Your Own Souvenir from Reindeer Antler
If you have the interest in arts and crafts, you can participate in jewelry making workshops. Among others, reindeer antler has traditionally been utilized in Lapland for a long time. Reindeer antler is an ecological material, as the reindeer sheds them every year. Talking about antlers it's worth mentioning, that in the deer family, the only female that have antlers are reindeer. Reindeer antler is the fastest growing antler in the world. It can grow 2 cm per day(!).  While participating in one of the workshops not just you can make your own jewelry from reindeer antler, but you can also listen to interesting stories about reindeer and about the Nordic handicraft traditions.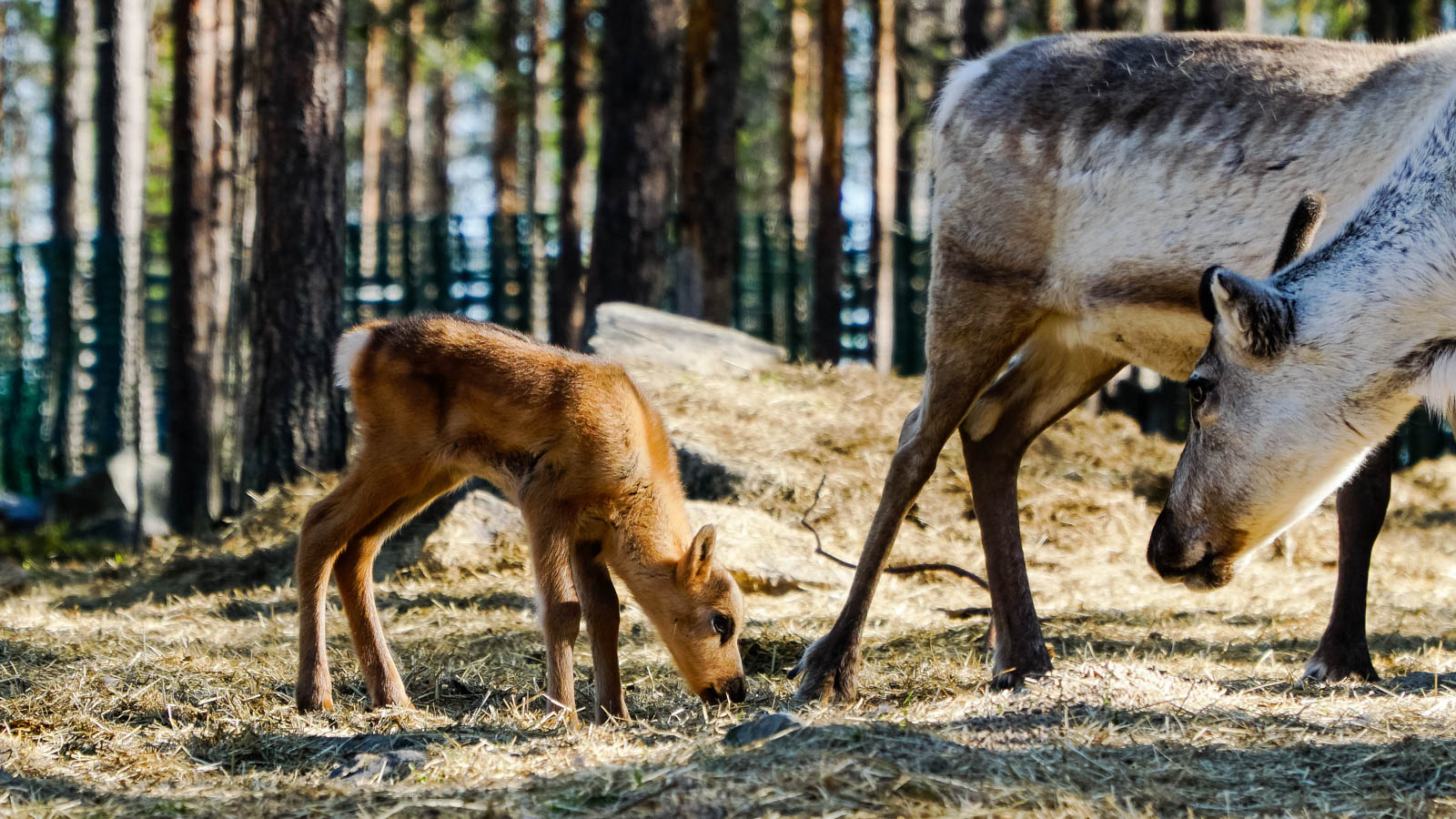 Visit a Reindeer Farm and Take a Sleigh Ride
There are plenty of reindeer farms in and around the city of Rovaniemi where you can meet (and pet) reindeer. Our local reindeer herders live with their animals through the year, and for the most of them the reindeer provide their livelihood. Visiting a farm also a good opportunity to enjoy the tranquil nature and get to know more about reindeer and about the authentic Arctic lifestyle. Reindeer farm visits are available all year around.
Check out our selection of reindeer farm visits
1 h Reindeer safari and authentic reindeer farm
Provided by Santa Claus Holiday Village
1 h Reindeer safari and authentic reindeer farm
Come to have a fun at the reindeer fence farm! This is the best way to experience the authentic work environment of the reindeer headers.
Family Combo: Snowmobile, Husky & Reindeer Safari
Provided by Access Lapland Oy
Family Combo: Snowmobile, Husky & Reindeer Safari
Experience the combination of your favourite safaris in Rovaniemi!
A CULTURAL ENCOUNTER AT A LOCAL REINDEER FARM
Provided by Sunny Safari
A CULTURAL ENCOUNTER AT A LOCAL REINDEER FARM
Visit a historical and cultural landmark – the reindeer, at an authentic local farm. Feed the adorable reindeer and experience the hospitality of the north as the farms introduce their local traditions and lifestyles with a nice warm drink to swallow all that Finnish information.  What's included? ~ Pickup and returns to your accommodation ~ […]
Northern Lights Hunting by Reindeer sleigh
Provided by Nordic Adventures
Northern Lights Hunting by Reindeer sleigh
Reindeer sleigh ride is an essential Finish experience. Feel the thrill of skimming through snowfields, and get your Reindeer Driving license!