features
What to do in Rovaniemi in 1-4 days in winter
So you have a day or a few to spend in wintry Rovaniemi but don't know what to do? We've listed things you should definitely look into in one to four days in town. The winter season in Rovaniemi runs from mid-November until mid-April, with a couple of weeks' annual fluctuation at both ends. With snow on the ground and temperatures ranging from a few degrees all the way down to 30 below zero, there's plenty of must-dos both indoors and outdoors in Rovaniemi. See what we've come up with, pick your favourites and compile your own itinerary!
If you're efficient, you can get through the bare essentials of Rovaniemi in a day. Here's how to go about that busy day:
1. Visit Santa Claus and cross the Arctic Circle
No visit to Rovaniemi is complete without visiting Santa Claus in Santa Claus Village. There you'll inevitably cross the Arctic Circle, so that's another feat accomplished.
2. Join an activity tour
Scores of outdoor activities are available in Rovaniemi during the winter. Hop on a snowmobile, a husky sled or a reindeer sleigh for a taste of northern rides, or, try snowshoeing or ice fishing. See more winter activities.
3. Explore the city centre, local history and art
Urban Rovaniemi is easily and quickly explored on foot, and the walking tour is neatly combined with museum visits.
The Culture Pass grants entrance to three essential museums and science centres for a comprehensive dose of local history and culture.
4. Try local food
You can't get through an active without eating. Several establishments in Rovaniemi offer Lappish delicacies worth tasting – see restaurants, cafés and bars here.
5. Hunt for the Northern Lights
You might be a bit worn out after a long day, but staying up and heading outside might reward impressively. As long as it's not overcast, there's a chance of spotting the Northern Lights on any given night in Rovaniemi from mid-August until early April. Read more about the Northern Lights.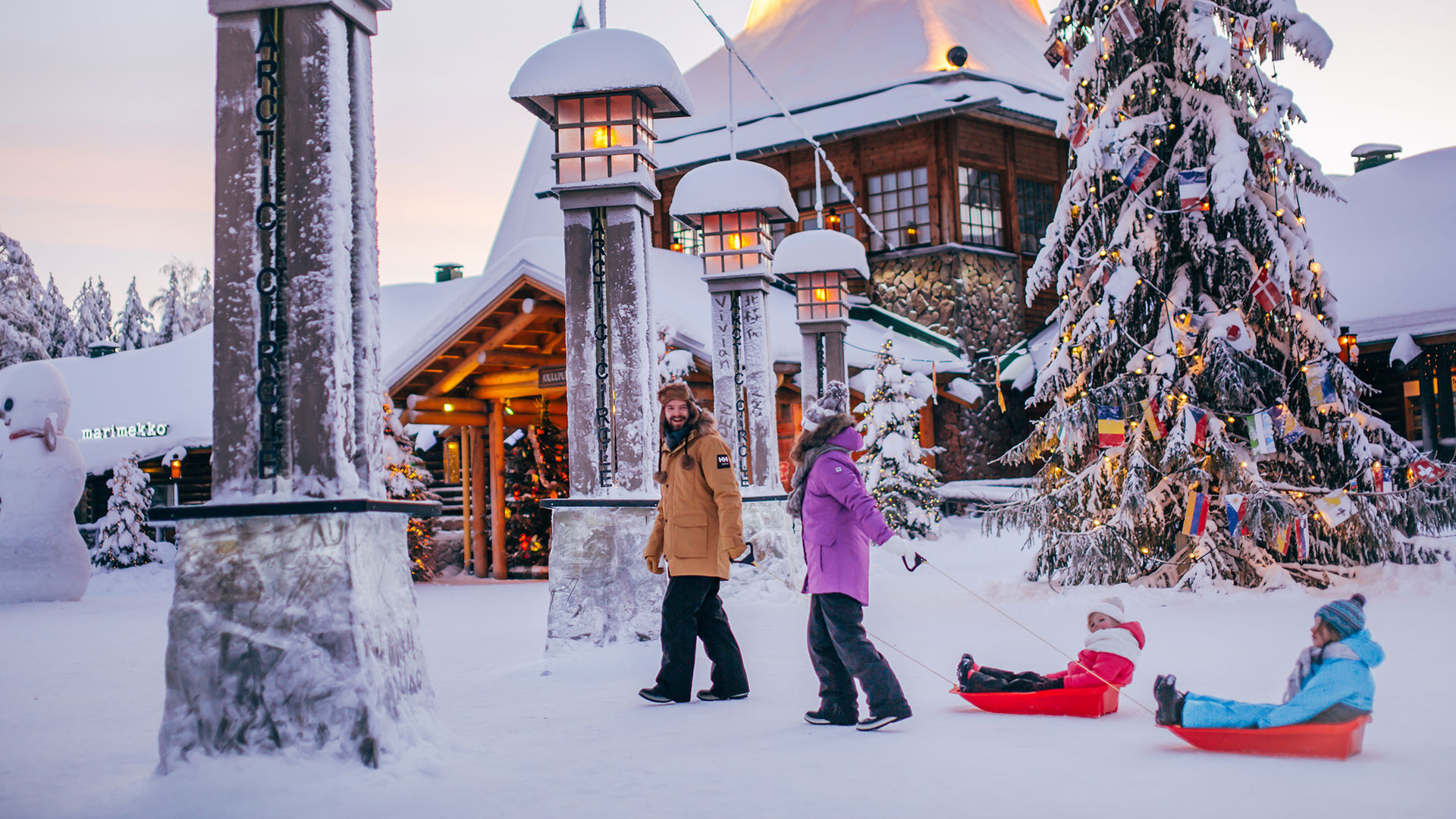 For a second day in town, you might want to loosen the schedule a notch. Here's some tips:
1. Learn local handicraft
Make a necklace or a keychain out of reindeer antler in a workshop under local expert guidance. Getting to know craft methods and materials provides an interesting angle to local culture, plus you get a self-made souvenir to carry with you wherever you go. See our handicraft activities.
2. Visit a nature spot
The Ounasvaara outdoor area lies a walk away from Rovaniemi city centre and offers nice hiking paths, beautiful nature and great views over the Rovaniemi area in all directions. Wandering around Ounasvaara makes it hard to believe you're still within city limits.
3. Go skiing or snowboarding
The Ounasvaara ski resort is not to be compared with the Alps, but it's a great place for a couple of hours of skiing or snowboarding just off the city centre. The hill is ideal for beginners with many gentle runs, and park rats will enjoy the jumps and rails. Equipment rental is available on site.
4. Visit a snow and ice construction
Visit a hotel made of snow, have dinner in an ice restaurant or a drink in an ice bar. Or perhaps even take it a step further and build your own igloo and spend the night in it? There are activities that involve snow and ice constructions in Rovaniemi, and some attractions are even made out of them.
Now you've done the basics in Rovaniemi – let's expand your area.
1. Take a day trip
There are quite a few interesting places within a couple of hours from town. Ranua is a village an hour south of Rovaniemi, where Ranua Wildlife Park is the main attraction – ever seen a polar bear before? How about wolves and wolverines?
The Pyhä-Luosto area lies two hours north of Rovaniemi and is nestled at the edge of a national park. The area is great for outdoor life and activities with amazing landscapes, but also has an intriguing attraction: the Lampivaara Amethyst Mine, possibly the only gemstone mine in the world that welcomes visitors.
Before you leave Rovaniemi, there's a couple of Finnish things you really need to experience:
1. Try cross-country skiing
Every Finn learns cross-country as a child – some are not too fond of it as adults, while others love it. Whatever their position, nobody can deny it's an essential part of Finnish, especially Lappish, culture in the winter. Hire equipment or take a lesson, but give it a go: it's a great way of whisking through the snow-clad forests. See cross-country skiing related services in Rovaniemi.
2. Try winter driving
Think Finns are crazy for driving on the icy roads no matter the weather? Well, in Rovaniemi you can sit behind the wheel of a rally car and race on an ice track!
Qualified instructors are present at all times, and proper instructions are given. That doesn't mean you can't put the pedal to the metal so go for it!
3. Try sauna and winter swimming
There's nothing more Finnish than sauna, and any Finn would be disappointed to hear a visitor hasn't tried it. In the winter, an extreme experience goes nicely with sauna – swimming in a hole in the ice! You've probably heard about it, but here's your chance to try – are you up for it? See more on sauna experiences and on winter swimming.