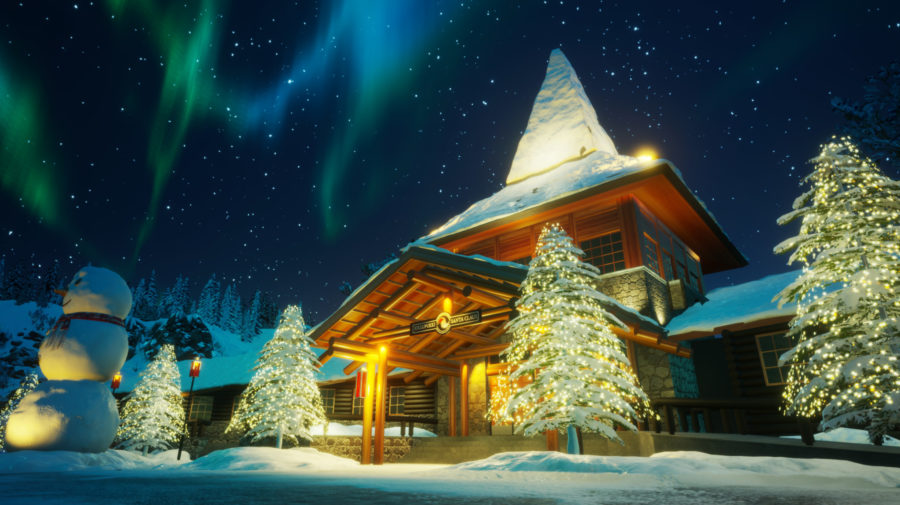 Want to meet Santa Claus? Now you can travel to Rovaniemi, Lapland, in virtual reality
Santa Claus's hometown in Finland, Rovaniemi, and virtual reality studio Zoan have created a unique VR experience of the Santa Claus Village and the nature of Lapland.
Rovaniemi receives yearly over half a million people across the world to make their dream of meeting Santa Claus come true. Only during December Santa Claus meets people from over 130 countries. This autumn Visit Rovaniemi and virtual reality studio Zoan have created a unique experience that offers an alternative way of visiting Santa in virtual reality. Meeting Santa Claus will now be possible without traveling to Rovaniemi. The VR experience will be launched at the Slush technology event in Helsinki 21st and 22nd of November.
"We believe that virtual traveling is a growing phenomenon, and that's why we wanted to bring the most essential Rovaniemi experience, meeting Santa Claus in person, to a virtual format. We hope that the present from Santa Claus delights and touches people, but also reminds us that we all have to take care of the nature", the Managing Director of Visit Rovaniemi, Sanna Kärkkäinen explains.
During the virtual visit, you get to cross the Arctic Circle in Santa Claus Village and meet Santa in his office. Santa will give you a present that takes you all four seasons of Lapland, including the unique arctic phenomena.
Zoan has earlier created the Virtual Helsinki experience that had gained global recognition in e.g., Unreal Experience Awards. It is a realistic city experience that combines urban, nature, and design, featuring the best that Helsinki has to offer. Virtual Helsinki is being used by the City of Helsinki and some Finnish Embassies all around the world, and for example, in large cities in China in VR booths. The goal is to have a global distribution of Virtual Rovaniemi as well.
"In the past few years, the technology and content of virtual traveling have taken big leaps, so the experiences are getting more versatile. Some experiences can even be more impressive virtually than in real life. We at Zoan want to help Finland become the top country of virtual travel", the founder and CEO of ZOAN, Miikka Rosendahl states.
In addition to Slush, the virtual experience will be presented at the Matka Nordic travel fair 2020 in Helsinki at the booth of Visit Rovaniemi. Other possible uses for the experience are being explored.
---
Rovaniemi is the Official Hometown of Santa Claus® in Lapland, Finland. Santa Claus receives visitors 365 days a year in Santa Claus Village situated on the Arctic Circle in Rovaniemi. Visit Rovaniemi is the destination marketing company which manages the brand "Rovaniemi – The Official Hometown of Santa Claus®". 
ZOAN is the leading VR & AR startup hailing from Helsinki. ZOAN has grown into a 50-person team from Europe, Latin America and the US, and the company keeps scaling their operations further. ZOAN has attracted globally recognized awards and keeps transforming industries by creating real-time digital twins and virtual experiences.
More information:
Visit Rovaniemi
Sanna Kärkkäinen, Managing Director, sanna (at) visitrovaniemi.fi, +358 40 576 3414
ZOAN
Miikka Rosendahl, CEO & Founder, miikka.rosendahl (at) zoan.fi, +358 40 963 4977
Laura Olin, CMO & Partner, laura.olin (at) zoan.fi, +358 40 351 6808
www.zoan.fi
You can download the pictures here
Back to news listing