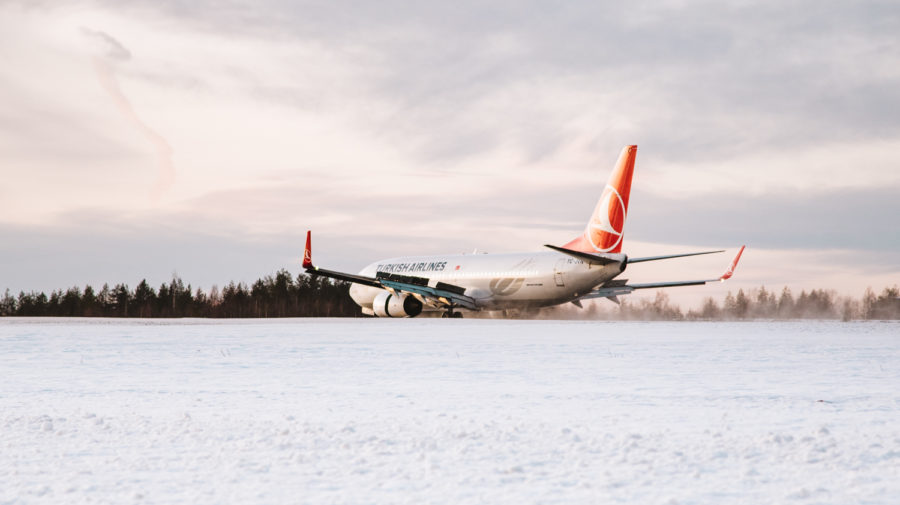 Turkish Airlines opened a new direct flight to Rovaniemi, Lapland
National flag carrier of Turkey, Turkish Airlines, opened a historical new route from Istanbul to Rovaniemi today the 5th of December 2019. Route is the first long direct route to Rovaniemi, and the first time, you can now fly direct flight to Rovaniemi, in business class.  
Historical first flight from Istanbul arrived today to Rovaniemi, Lapland. A new direct route will open up new possibilities in the travel business for Rovaniemi and all Lapland.
– Visit Rovaniemi has been working purposefully with Finavia to open up a new route with Turkish Airlines. Route from Istanbul will connect 80 new destinations with comfortable traveling time, and that will unlock unrepresented accessibility to Rovaniemi. New clients will be searched from the Middle East's growing markets. Rovaniemi has been already represented to professional buyers from Bahrain, Kuwait, Oman, and Arab Emirates. With a trustworthy working direct route and our magical Arctic experiences will together enable selling our exclusive destination. Through the winter season, the operated route will also suite well our established Asian market, and options for growth are good in that direction too, stated Sanna Kärkkäinen, CEO of Visit Rovaniemi.
Turkish Airlines flights to Rovaniemi and Istanbul will be sold to travel agencies and individual travelers. Therefore, a wide scale of Turkish Airlines flights will now be available also to citizens of Lapland. Tickets will also be available to purchase at Turkish Airlines ticket office from Rovaniemi Airport.
Overall Turkish Airlines operates to 126 countries worldwide.
Istanbul – Rovaniemi flights with Turkish Airlines are operated between 5th December 2019 and 22nd March 2020 on Tuesdays, Thursdays and Sundays.
Download pictures of the opening ceremony here.
More information:
Sanna Kärkkäinen, CEO
Visit Rovaniemi
Tel. +358 40 576 3414
sanna@visitrovaniemi.fi
Back to news listing