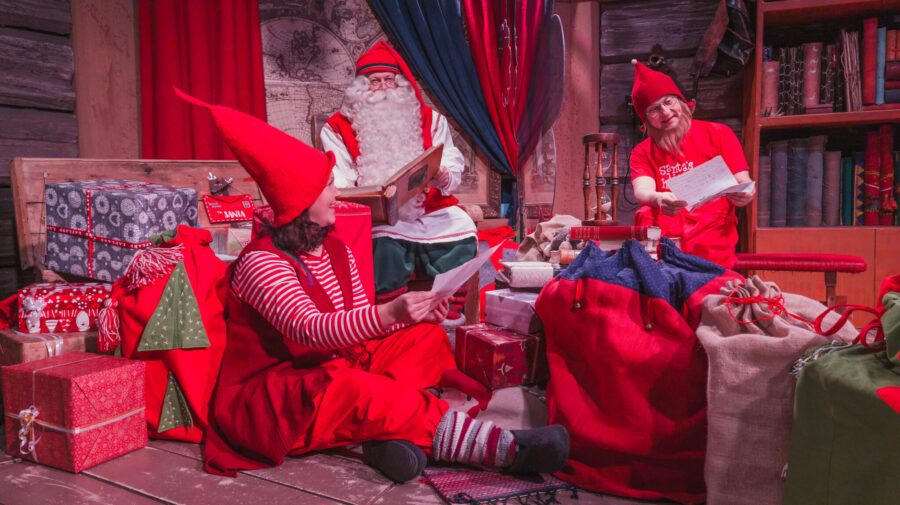 Samsung brings families to Santa Claus to Rovaniemi
10.12.2020
Samsung joins forces with Santa Claus with a meeting opportunity with Santa as well as the AR filter for Instagram Stories that will bring about the Christmas spirit to those who won't be able to travel to an authentic Christmas landscape this holiday season.
Special circumstances limit people's ability to not meet one another, but also to travel to meet Santa Claus in Lapland. Despite the current situation, Samsung wants to give as many people as possible the opportunity to get into the Christmas spirit by launching the Samsung Christmas for All campaign in early December.
Santa Claus Office is open everyday of the year. During these challenging times and travel restrictions, Santa Claus Office has come up with new ways to bring Santa together with children and the young-at-heart. Samsung Office wants to help Santa Claus and elves at a Christmas meeting, which is why there is now an opportunity to meet Santa Claus virtually and immortalize yourself in the authentic Christmas landscape of Rovaniemi, Lapland.
The winners of the Connect with Santa competition will have a unique opportunity to participate in a remote meeting with the genuine Santa Claus, tell about their Christmas present wishes and to ask Santa about what he has been up to. The competition will be held on Facebook on December 9th, and a total of ten participants from Finland and Sweden will win the opportunity for the remote meeting. Winners will be sent a Teams invitation with information about attending the virtual meeting. You can enter the competition on Samsung's Facebook page. It is also possible to purchase a ticket for a remote appointment, which can be purchased at a discounted price through the Samsung Members app.
– Meeting children is, of course, most fulfilling face to face, but I must say that this modern technology is great. It allows me to meet the many children and the young-at-heart, who can't get here in person. The most important things for me are opportunities to meet people and chat sessions with my friends, Santa says.
– As people have been unable to travel as we've used to during 2020, a plethora of digital solutions have been used to fill that void. For Samsung, it is very important to help customers spend time with their loved ones and express themselves, which is why this campaign with Santa Claus is a perfect fit for us. It's great that we can help people get into the Holiday spirit. Plus, it is also a chance for us to remind everyone that Santa is, indeed, from Finland, Mika Engblom, Country Manager & Head of IM Finland at Samsung Electronics Nordic, continues.
In addition, Samsung brings a selection of AR filters to Instagram Stories that allow the user to immortalize themselves with Santa or in a true Christmas landscape. The picture can, of course, be shared on Instagram Stories as well as saved and sent as a digital Christmas card to friends and family. The Christmas filters are now available on all Samsung mobile devices that support Instagram.
Back to news listing