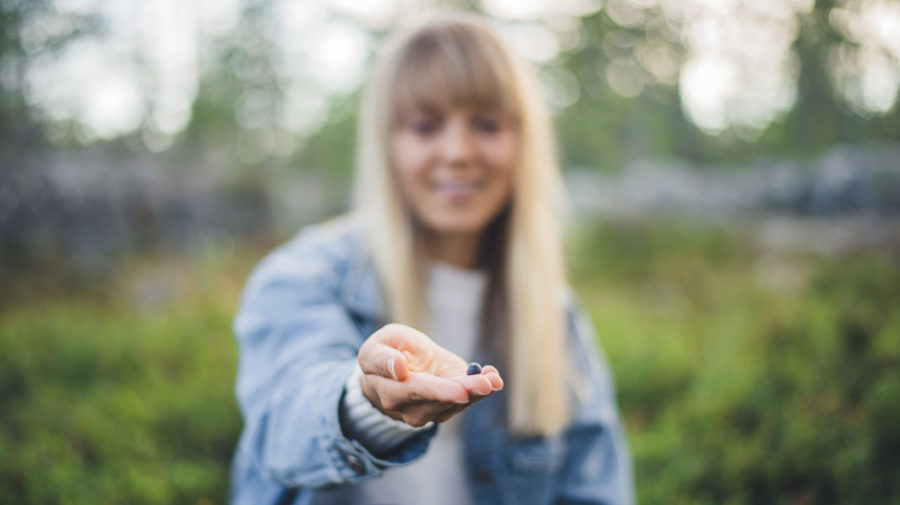 Rovaniemi – Local companies joining forces for Sustainable Travel Finland
Sustainable Travel Finland trademark offers a concrete toolkit for travel destinations to help Finland's travel destinations to adopt sustainable procedures and to make sustainable choices in their business. Companies from Rovaniemi are joining forces to take action towards Sustainable Travel Finland,  so travelers of tomorrow can choose sustainable!
Local sustainable accommodation companies – Arctic TreeHouse Hotel awarded with the Green Key eco-label, as the first private hotel in Finnish Lapland.
Accommodation companies joining the Sustainable Travel Finland program are improving the sustainable energy and water saving solutions, reducing energy and water consumption, reducing the amount of waste, increasing the sustainability of purchases and improving the management of environmental and sustainability issues.
Arctic TreeHouse Hotel was awarded the Green Key eco-label as the first private hotel in Finnish Lapland. All the buildings are made from sustainable renewable Finnish wood and they use only green energy. Each year, the staff personally plants 5 000–10 000 new seedlings to the surrounding forests. They also focus on the size of our carbon footprint by measuring and improving the sustainable energy and water saving solutions, in parallel with the effective managing of our waste sorting and the reduction of our waste production.  Restaurant menus change according to season, and the goal is to have 65 % of main ingredients locally produced. Santa's Hotels in 2019, begun the process for ISO:14001 environmental certificate, to cover all their properties. The long term goal of chain's environmental work is to reduce energy and water consumption, reduce the amount of waste, increase the sustainability of purchases and improve the management of environmental and sustainability issues as a whole. They guide and train staff regurarly and participate in several environmental projects, for example in the energy efficiency agreement of the Finnish Hotel and Restaurant Association.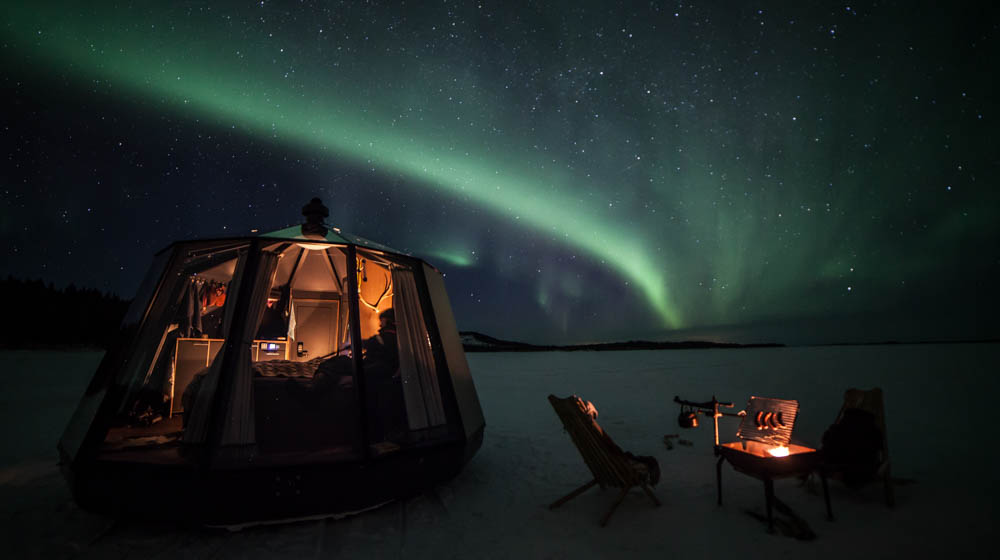 Ollero Eco Lodge uses only renewable energy
District Rovaniemi is a responsible company offering boutique glamping experiences in Finnish Lapland. They want to cherish our nature and same time enjoy our passion to extreme. Ollero Eco Lodge uses only renewable energy, and more than 80 % of waste is recycled, and towels and bedlinen are sourced from a local laundry company that washes textiles eco-efficiently. Products (from shampoos to cutlery) are ecological and fair-trade products. Arctic SnowHotel & Glass Igloos uses materials for constructing SnowHotel, that are sourced from the local surroundings. The ice used in structures comes from the adjacent Lake Lehtojärvi.
Santa Claus Holiday Village  has been run by the family enterprise since 1994.  Sustainability is part of the company's main values, and they're also part of the Green Start -program. The holiday village has also bought five electric vans for the cleaners to move between the holiday village. Wilderness Hotels Nellim is a family run travel company located in Inari Municipality in Finnish Lapland, owned by a local family Lappalainen. The family values authenticity and that is why you'll find a lot of natural building materials, art made by the local craftmen.
Sustainable activity companies – First electric snowmobile safari's in the world are run in Rovaniemi, Lapland, Finland.
Aurora Emotion  is an engineering company that has created electric snowmobiles, eSleds, and the first electric snowmobile safari's in the world are run by eSleds in Rovaniemi, Lapland, Finland. The electric snowmobiles do not use gasoline at all and the company only uses green energy coming from their special electric charging points. The company is doing continuous development work with electric snowmobiles and is also developing a network of electric charging points in Lapland area. During safaris not any plastic bags is used, nor is disposable plates or cutlery. Only local food is served and the company operates closely with local, small entrepreneurs.
In Bearhill Husky, the sled dogs work or practise through the year. Keeping the kennel running year-round is one example of the actions that Valentinj Beets and his wife Veronica Butinova have made to run the kennel sustainably. All of the buildings are made from renewable Finnish wood and the kennel works with green energy. Recycling and avoiding disposable products is also part of their values. Kennel uses only diesel cars with adblue-system as well as eco-friendly modern snowmobiles. Beyond Arctic tours and expeditions are based on the values of sustainable travelling. They remove and recycle all litter produced on our trips. All the wood they use is produced by them and impact to the nature is minimized. The company doesn't use any petrol-operated snowmobiles and we they have modern vehicles to ensure the latest technology is used to reduce pollution.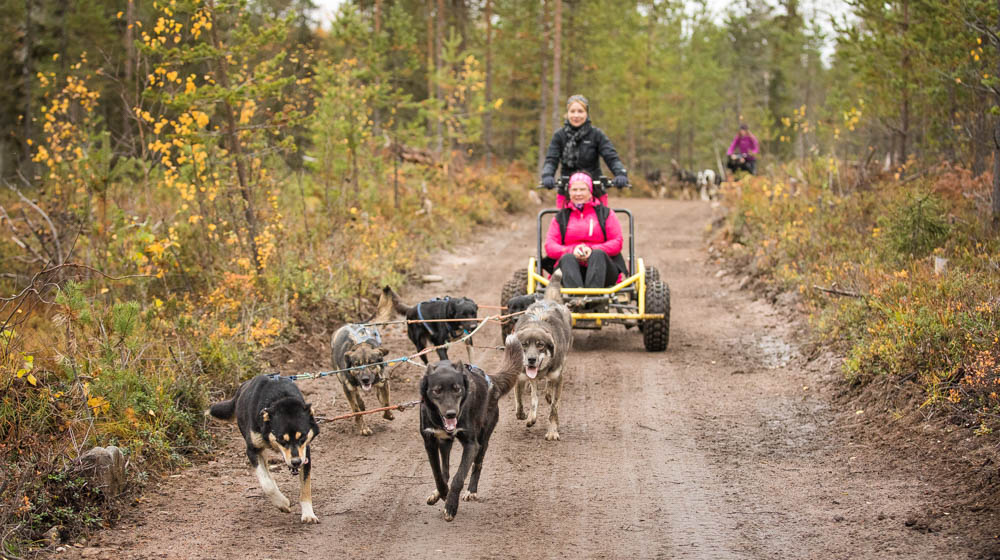 In Bearhill Husky, the sled dogs work or practise through the year
Lapland Safaris uses vehicles with four-stroke engines with the market's lowest levels of emissions. They also use the most environmentally friendly fuels and lubricants available. The company has undertaken to offset all carbon dioxide emissions from our snowmobile safaris from 1 December 2019 onwards. They will offset their emissions by funding carbon sinks in collaboration with their partner Nordic Offset Oy.  The funds will be targeted at Gold Standard -certified projects supported by WWF. Lapland Safaris uses green electricity on all their premises, and their safaris always run at official trails.
Husky & Yoga Nature offer only local, organic products and use green energy. Room temperature is kept on +18C, and the house is mainly heated with wood. Arctic Joy is a customers to the nature by foot, snowshoes or SUP-boards. Arctic Joy recycles and uses only eco-friendly products in their operations. Happy Fox uses geothermal heating as a source of energy, recycles as well as uses only local and natural ingredients for meals. Activities and tours are based on exploring the nature without motor vehicles. Arctic Lifestyle creates experiences that are based on either the lifestyle they lead or the unique highlights of Lapland. Their equipment (snowmobiles and jetskis) is as ecologically friendly as possible and locally produced locally in Rovaniemi. Orbas Oy is a local reindeer herder family in Rovaniemi. Living out of nature naturally requires sustainable lifestyle, that you get to experience close by visiting the family. Nordic Adventures team is constantly developing and making use of innovative solutions that are mindful of our environment, our community, and our world as a whole.
Joining the program for Local Businesses is free of charge
Visit Rovaniemi with its partners run Sustainable Travel Finland –programme, to help the local tourism to develop more responsible. Kärkkäinen has encouraged all local businesses to join this program, free of charge.
Read the whole story about Sustainable Travel Finland.
Back to news listing