Rovaniemi Live webcamera in Santa Claus Village has reached over 10 million views
Santa Claus Village received a webcamera in the year 2009 right before Christmas and wowed the audience right away. Standing on the central square of Santa Claus Village and waving to the Live webcam has become a tradition in this magical village on the Arctic Circle in  Rovaniemi.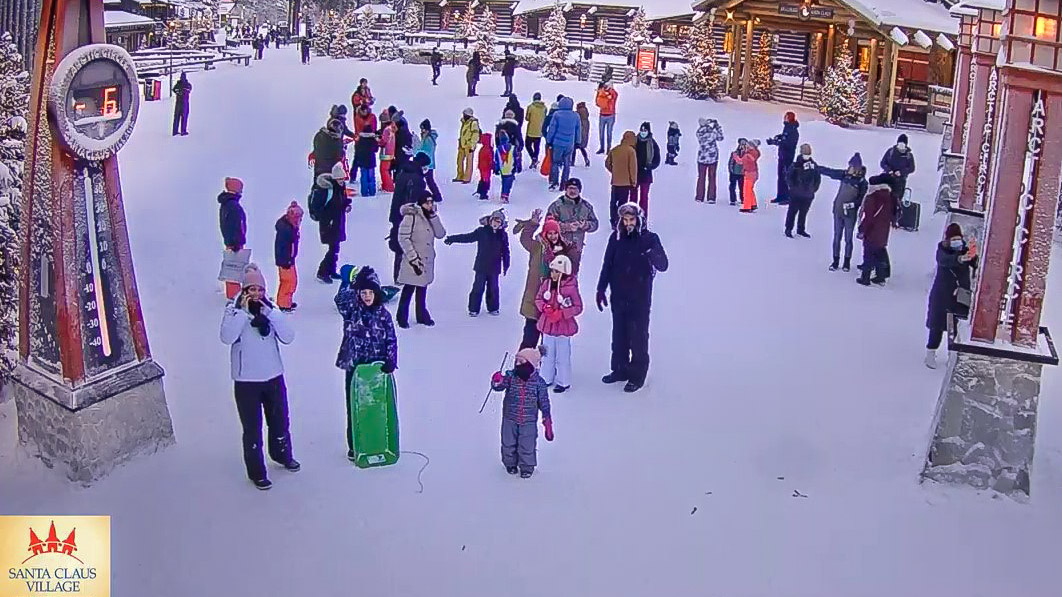 Visitors of Santa Claus Village waving to the Live webcam on December 2nd 2021.
The total number of viewers today has exceeded 10 million. Pia Jokela the Communications Officer of City of Rovaniemi interviewed Seppo Rautapää Head of System specialist at City of Rovaniemi and Niko Tervo the Sales Account Manager of Loihde, and they both were equally thrilled for the succes of the Live webcamera. Raitapää stated that people from all over the world are interested of following the Live feed from the Santa Caus Village, and Tervo ensures that the Live stream will continue to brighten the days of viewers from all over the world.
The Live webcamera has become an attraction in itself
Visit rovaniemi receives many questions regarding the Live webcameras of Rovaniemi weekly, and the most devoted fans report even the shortest interruptions in the streams! "We love how the true friends of Christmas send us messages about the Live webcameras of Rovaniemi daily. They watch the live feed while they eat breakfast, and check the Live webcameras at evenings when they get home from work, and wish to include us in their experience. Every winter we receive many messages about snow covering the cameras in the Lordi´s Square or in Santa Claus Village and so on. So truly our viewers care about the continuation of the live videos from Rovaniemi. The Visitors of Rovaniemi Lapland Finland make plans beforehand to stand infront of the Live webcameras when they get here, to say hello to friends and loved ones back home", States Jenny Silvennoinen Content Creator of Visit Rovaniemi.
More information:
Sanna Kärkkäinen
Managing Director, Visit Rovaniemi
sanna.karkkainen (at) visitrovaniemi.fi, Tel. +358 40 576 3414
Back to news listing