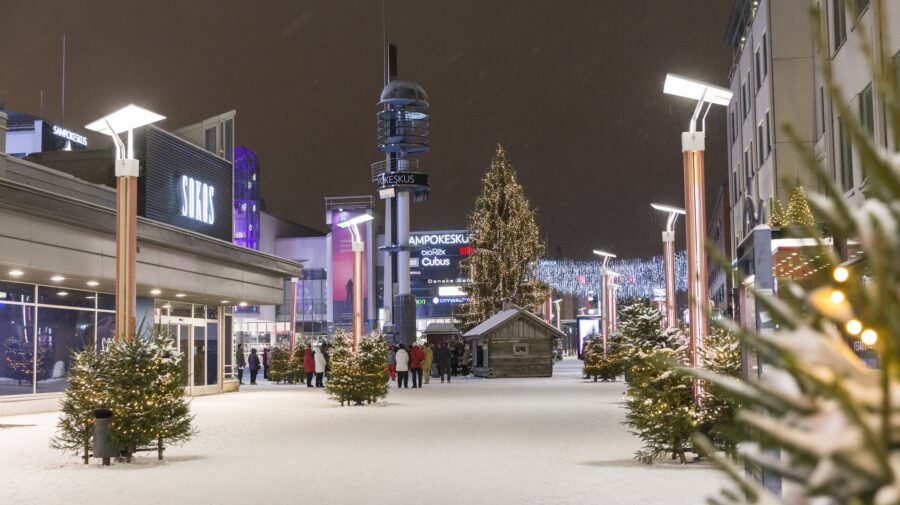 Rovaniemi Christmas tree decoration -event showcases local companies Christmas spirit
The Rovaniemi city centre was filled with Christmas beauty last night, as the local companies donated 200 Christmas trees along the promenade. This was the 6th time the local entrepreneurs volunteered to decorate the promenade to bring smiles not only to the local faces but for travellers from all over the world, visiting Rovaniemi in Finnish Lapland.
The Christmas tree decoration -event is voluntary to everyone, yet still there are several local companies wanting to take part and share the costs of the trees. Many local citizens joined to bring beauty  into the Christmassy city centre promenade, making this annual event a highlight for the community.
A beautiful tradition initiated by a local visionary
Janne Honkanen, a local luxury travel entrepreneur initiated the whole idea in year 2016 and surprised the whole city. He decided to bring the beauty of Christmas to the city centre. And in just one night, with his own expense, delivered the Christmas Magic in means of two hundred Christmas trees, to the main promenade of Rovaniemi.
Rovaniemi is the Official Hometown of Santa Claus® and as the Christmas capital of Lapland yet once again proves how people working together, magical things can happen. Honkanen stated in an interview by Yle on 26th of October "if one man can do wonderful things, imagine what we can all do together".
Thanks to Central European direct flight routes to Rovaniemi Lapland is easier to reach than ever
The Managing Director of Visit Rovaniemi Sanna Kärkkäinen says that this is the time to make an effort to build the Christmas spirit, for the upcoming season is looking good for the tourism recovery of Lapland. "The interest is crowing as the world is opening, and people from all over the world are asking -how can we travel to Rovaniemi for Christmas" states Kärkkäinen. "The new Central European direct flight routes to Rovaniemi are making Lapland easier to reach than ever. Asian market is also showing signs of rising interest and traveling from Malaysia is now possible, but the biggest expectations for this season are, of course, from Central Europe as well as the United Kingdom." Kärkkäinen says.
More information
Sanna Kärkkäinen Managing Director, Visit Rovaniemi
sanna.karkkainen (at) visitrovaniemi.fi, Tel. +358 40 576 3414
Back to news listing