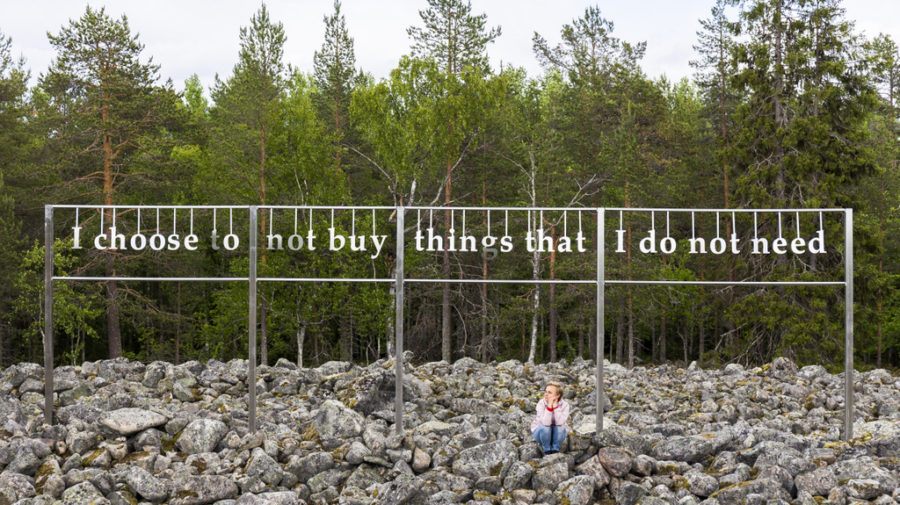 New environmental artwork at the Ranua Wildlife Park
The environmental artwork named Seven Steps to Save the Ocean opens at Midsummer at the about 100 x 150 meters large rocky boulder soil at the Ranua Wildlife Park. The sizably outstanding artwork is designed and built specifically to fit the rocky scenery that opens for visitors the very first time in due course of the opening of the artwork. The finished work is, at the moment, one of the largest environmental artworks in Finland.
In reality the work consists of an about 135 meters long newly built wooden trail, as well as of the 2 – 10 meters wide metal sentences set in the boulder soil for visitors to read and look at as part of the scenery, while walking on the trail. The sentences are in three languages – in Finnish, Chinese and in English. Every sentence, in addition of the translation, contains also additional information about the themes of the artwork.
Sculptor-architect Maija Kovari from Tampere, Finland, has designed the artwork:
"The work is set at the Ranua Wildlife Park, the wildlife park in the Finnish Lapland specializing in arctic animals. The current theme considering the arctic nature, of which I wanted to express with my work, is the survival of the arctic nature from the climate change happening in the world. It is easy to feel powerless against a serious theme like this, yet my desire with my work was not to add to the despair or hopelessness; on the contrary: my desire is to build hope. With the work translated in many languages my desire is to communicate that the theme is global; that each of us has a part in the change. Everyone can always make a choice with a difference; a choice that matters. The work expresses these choices as part of daily life. The name of the artwork Seven Steps to Save the Ocean, in addition of taking the steps indicated, refers also to the arctic seas in various periods, for the boulder soil as part of the work is also, ancient seashore."
Back to news listing