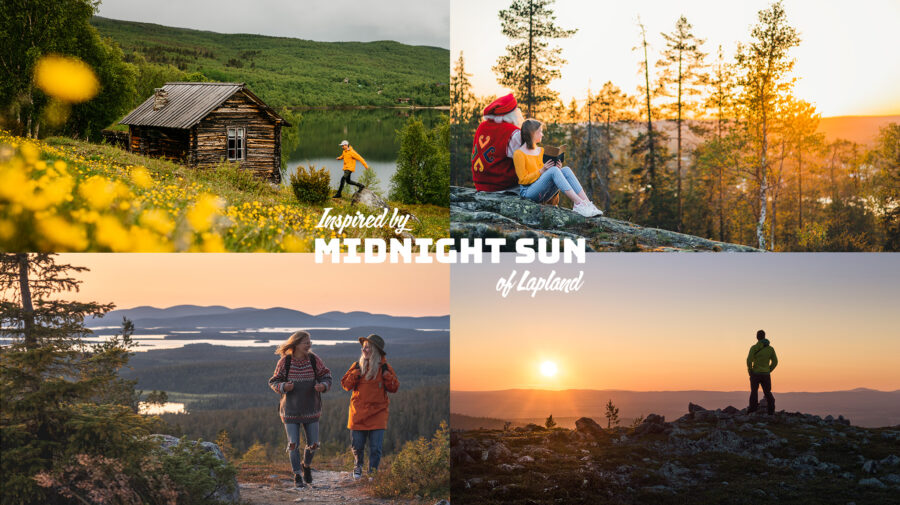 Lapland invites influencers to become Lapland Midnight Sun Ambassadors
Rovaniemi together with three fellow top Finnish Lapland destinations; Levi, Ylläs and Lapland North invite social media influencers, journalists & new media journalists to explore the magic of the never setting sun. The Lapland Midnight Sun Ambassadors will be treated with the best of Lapland summer; unique accommodations and unforgettable activities under the Midnight Sun.
The absolute highlights of Lapland in June – July 2022
-By investing into Lapland Midnight Sun season, we aim to build Lapland travel industry into a sustainable year-round success, states Sanna Kärkkäinen the Managing Director of Visit Rovaniemi. Hanna Kouri, the Marketing Director at Lapland North, continues how great it is to work together with fellow destinations to promote Lapland summer. According to Kouri the only way to grow, is to build the year-round nature of Lapland travel industry, and that this campaign is a great way to reach a younger target group on social media.
-Lapland summer and the Midnight Sun are magical phenomena equivalent to the world-known Northern Lights season, best realized on top of fells and surrounded by the summer light playing in Lapland nature surroundings. We wish to invite these influencers to experience it for themselves and share it to the world, states Satu Pesonen the Managing Director of Visit Levi. -Lapland Summer needs to be experienced, finalizes Kati Vehmas the Managing Director of Visit Ylläs.
All four agree how all international marketing actions for Lapland summer also benefit the stable employment locally and continue to maintain environmentally and socio-culturally responsible industry.
Building Lapland Midnight Sun awareness globally
In Rovaniemi you can cross the Arctic Circle and live like locals & enjoy the authentic Arctic city life spiced up with the culture and easy-access activities. Rovaniemi is all about living on the local pulse of Lapland. Levi's summer is peaceful fell landscapes, a compact village centre, unforgettable & unique experiences, and flavours of the arctic. Ylläs offers seven fells and two authentic villages in unique Arctic nature. Lapland North offers mesmerizing moments under the Midnight Sun in the Northernmost Lapland. The Ambassadors get to choose between 4 nights in 2 Lapland destinations or 8 nights in all 4 Lapland Destinations.
Lapland destinations together released a campaign for media journalists and social media influencers to become a Midnight Sun Ambassador. Application period ends 20th of May 2022.
More information:
Sanna Kärkkäinen Managing Director, Visit Rovaniemi
sanna.karkkainen (at) visitrovaniemi.fi, Tel. +358 40 576 3414
Kati Vehmas, Managing Director, Visit Ylläs
kati.vehmas (at) yllas.fi, Tel. +358 40 512 7203
Satu Pesonen, Managing Director, Visit Levi
satu.pesonen (at) visitlevi.fi, Tel. +358 40 820 9419
Hanna Kouri, Marketing Director, Lapland North
hanna.kouri (at) inarisaariselka.fi, Tel. +358 40 709 8999
#MidnightSunLapland #LaplandMidnightSunAmbassador
Back to news listing