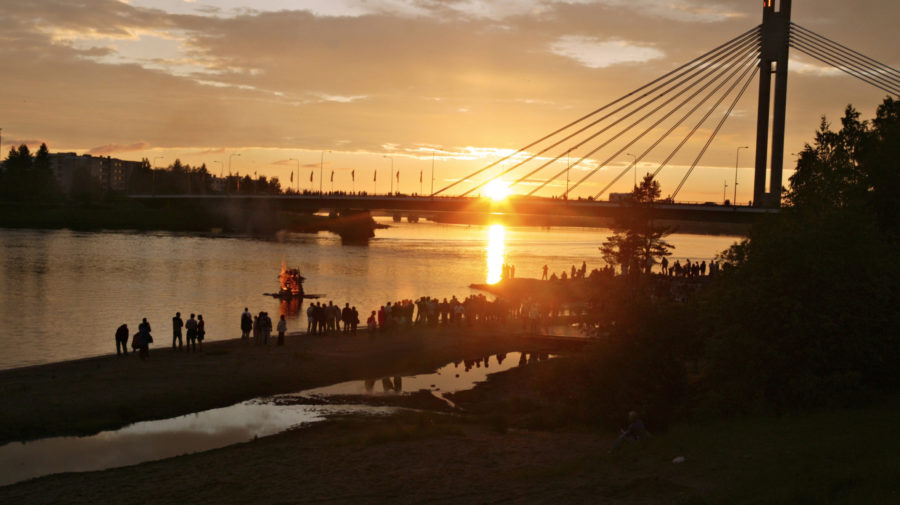 Join us in Rovaniemi for the most fabulous Midsummer riverbank picnic party!
The City of Rovaniemi invites you and your family to celebrate Midsummer's Eve in style on Friday, 21 June, from 4:45 pm to 8 pm. Spend a beautiful evening enjoying summer dancing, music, fire art, and the pleasant summertime atmosphere at Ounaskoski, on the banks of the Kemijoki River, besides the majestic Lumberjack´s Candle Bridge. The relaxed picnic vibe and evening splendour promises to be a treat for Rovaniemi locals and visitors alike – fun for all ages! The festivities will reach their climax with the lighting of the blazing Midsummer bonfire on the river's sandbank.
The Midsummer Celebrations begin with a programme made with children in mind. Siepakat folk dancers will entertain the children by playing traditional outdoor games and blowing giant bubbles, all to the tune of the children's orchestra! Children can even frolic in the grass with traditional hobby horses.
The beach will be awash with the sounds of music, as harmonica player Kauko Määttä and accordionist Kristiina Löfström sing familiar summertime songs.
Led by Minna Siitonen, an orchestra of Rovaniemi musicians will provide the perfect soundtrack to a summer picnic alongside the melodies of the saxophone and accordions flowing from the pavilion stage.
Dressed in the traditional folk costumes of the Siepakat dancers, ushers will raise the Midsummer flag at 6 pm, signalling the opening of the evening's events. This will be followed by a proclamation delivered by the City Council's Deputy Chairperson, Susanna Junttila, which welcomes everyone to celebrate Finnish summer in all its glory.
The Siepakat folk dancers will show off their prowess in traditional Finnish dance – from the up-tempo polka to the more sedate waltz. The show also features a Karelian square dance, the "Poor Boy", which tells the story of a traditional court dance, where the boys attempt to get the girls to dance with them.
Gentle and delightful summer evening tunes will be provided by the Vocaliisat women's choir, who make rocky beach their stage. The choir is lead by conductor, Anniina Kervinen.
Metsähallitus will provide birch twigs for guests to weave into their own traditional Finnish "bath whisk", used in saunas. The highlight of the evening will be the fire art and Midsummer bonfire erected on the river's sandbank. The bonfire will be lit at 8 pm.
For the adults, the evening continues with the Midsummer dances at Restaurant Valemari, with music provided by Jarkko Honkanen & Taiga.
Midsummer revellers are encouraged to arrive early, bring friends and family, picnic blankets and something summery to eat, outdoor games, and a celebratory mood! Food stalls and a campfire site for grilling will also be available.
Back to news listing