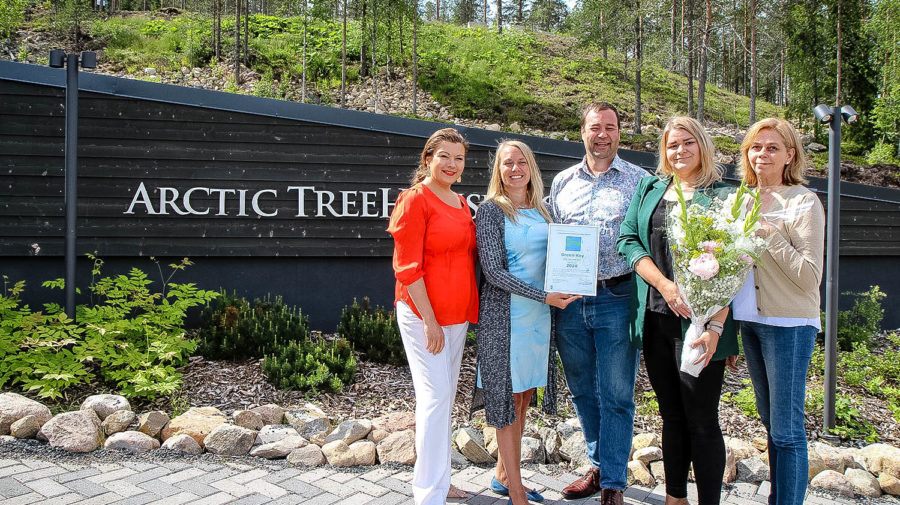 Arctic TreeHouse Hotel Awarded The Green Key Eco-label
Arctic TreeHouse Hotel from Rovaniemi has been awarded the Green Key* eco-label as the first private hotel in Finnish Lapland. The prestigious label is granted to companies that fulfill the comprehensive environmental criteria that cover matters such as energy efficiency, recycling and the raising of environmental awareness. The worldwide program includes over 3 000 tourism operators from 57 countries.
"We are committed to the values of sustainable tourism," says Ilkka Länkinen, the CEO of the company. "We want to ensure that the Rovaniemi area remains a great place to live in and visit in the future as well."
Ecological values and the Green Key criteria have been kept in mind at the Arctic TreeHouse Hotel since the very beginning of its designing and building process. The company has also invested in  renewable energy sources, such as geothermal heating and solar power. The latest investment is the newly installed OptiWatti system for smart energy management that sets the temperatures of the TreeHouses according to their capacity utilization. "We monitor the strain caused on the environment and do our best to use our resources and energy as efficiently as possible," Länkinen explains.
The hotel personnel has gotten together on various occasions to do some good for the environment. For example, they recently spent a day planting 10 000 pine tree seedling to the arctic forests.
"Our team has had a very positive and enthusiastic attitude about all of this. We have established an in-house Green Ambassador team that supports the environmental know-how of the rest of the staff and is responsible for executing internal sustainability-related audits, thus increasing our positive handprint," Länkinen says.
With its exemplary actions, the hotel is also responding to the growing demand for sustainable and ethically produced services. "Today's tourists are more and more aware of environmental issues and make decisions based on their own set of values. We want to develop our experiences with quality as the top priority. And naturally, our aim is also to communicate the principles of resposible travel to our guests," Länkinen states.
Arctic TreeHouse Hotel wishes to encourage other local tourism operators to familiarize themselves with the the Green Key program as well. "The program is very comprehensive and clear. It would be great to have even more Green Key certified businesses in Lapland. It would be a way for us all to work together for sustainable development," Länkinen comments.
More information:
Ilkka Länkinen, CEO
ilkka@santapark.com
+358 505 176 989
* Green Key is a voluntary eco-label awarded to more than 3,000 hotels and other establishments in 57 countries. In Rovaniemi, also Original Sokos Hotel Vaakuna Rovaniemi has the Green Key eco-label.
Back to news listing