features
Lapland with children: An itinerary by Irish blogger Corrina Stone
It's been a dream of mine for many years to bring my children to the best winter playground in the world, Lapland! Each time I priced a family trip I was being quoted thousands of euros for a day trip to the icy wonderland. I suppose it didn't help that we would be flying from Dublin meaning the only direct flights to Rovaniemi are chartered flights, well that and the fact that we have five children. What if I told you that you can get there and spend a few days enjoying the most magical experiences for less than half the cost of a day trip with a tour operator? You can and we did!
Planning a trip to Rovaniemi, Lapland
While researching I learned that we could get any one of a number of connecting flights to Rovaniemi but I couldn't believe it when I found that we could fly from Dublin to Helsinki and then catch an overnight train to get us to Santa's hometown.
The train is an amazing experience for children and adults alike, I'll never forget the postcard perfect views of the Finnish countryside as we wound our way through dark forests with the occasional wooden house decorated with tiny white lights and the icing on the cake was the breathtaking dawn we got to witness as we approached our destination of Rovaniemi.
When we arrived at Rovaniemi Train Station I quickly realised that getting around with kids couldn't be easier as Santa's Express bus number 8 completes a loop every hour: Rovaniemi Train Station – Rovaniemi Town Centre – SantaPark – Rovaniemi Airport – Santa Claus Village. Perfect for getting us where we needed to go.
There are a few traditional restaurants dotted around the village including a shopping centre the ideal place to buy souvenirs. We had the pleasure of taking a reindeer sleigh ride, we'd only set off through the snow covered forest when the silence hit me, we slowly made our way around a vast still forest the only sound was me singing Jingle Bells quietly into my five year old son's ear as it was just us in the sleigh. It was utterly magical and it didn't end there, after our sleigh ride we got to roast some sausages over an open fire we were also treated to some hot glögi (hot berry juice) to warm us up.
Even writing this I'm still torn as to which was the better experience the reindeer sleigh ride or the husky safari, I think it might just be the huskies! You could see the staff really cared for the dogs as they switched out some of the dogs after each outing they were rubbing them and talking to them. When it was our turn the dogs were jumping and yelping itching to get going, the sleigh is like a toboggan whereby you sit one in front of another and lie back on the person behind you. Our musher was very friendly she told us all about the huskies during our ride, my kids really loved it.
As we were dashing through the snow in the forest I took a moment to look up at the dark trees towering above us when all of a sudden we whooshed out into a vast snow covered field beautifully lit with the reflection of the moonlight on the snow, the only sound was my children giggling in front of me. I'll remember that magnificent moment for a long time to come.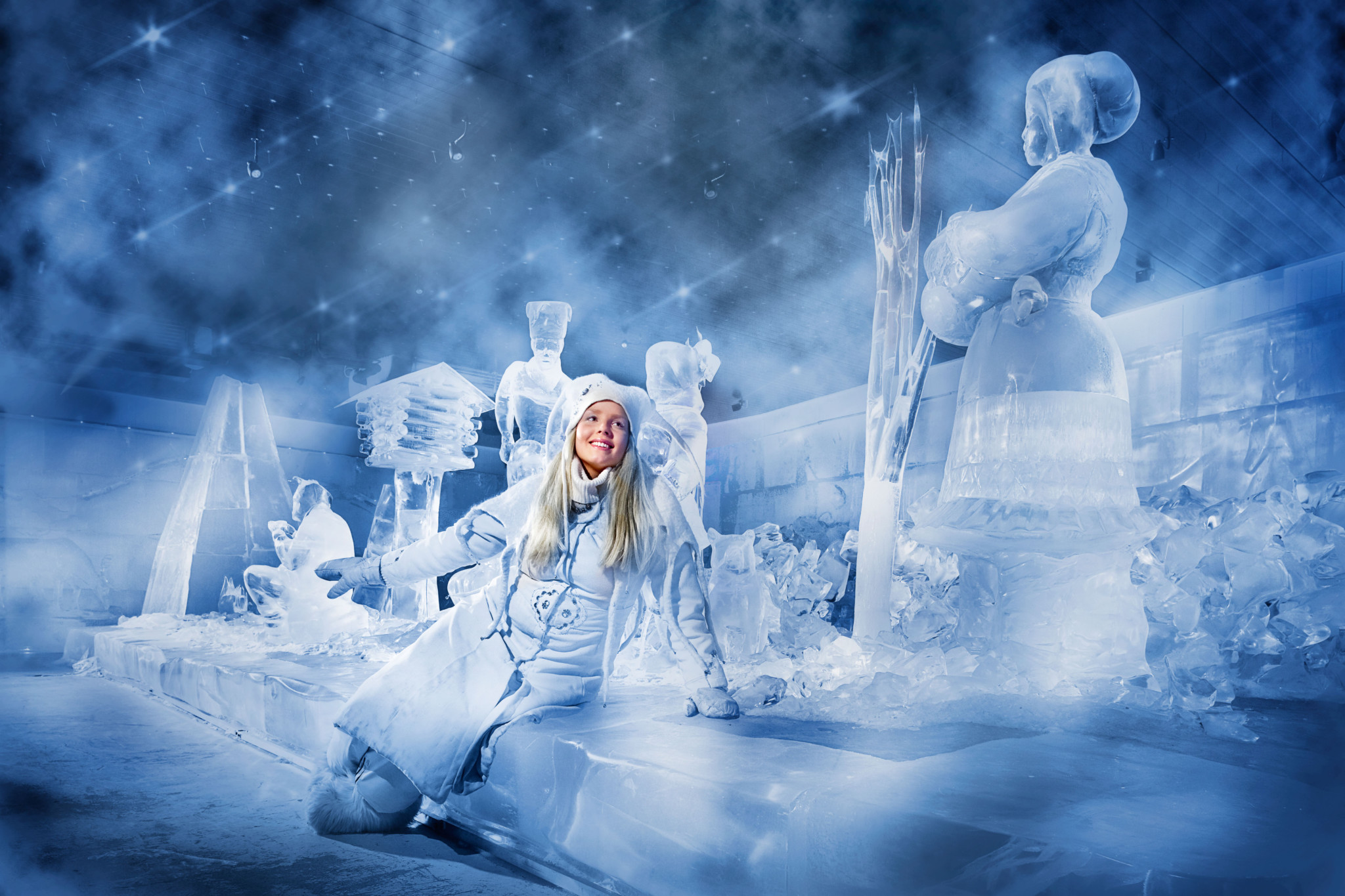 We also spent a day at SantaPark. It's a wonderful themed park underground in a cave and it's every bit as awesome as it sounds. We got to undercross the Arctic Circle and were greeted by a beautiful Ice Princess. We donned hooded winter cloaks so we could view the ice sculptures in the Ice Gallery. In central plaza there's a restaurant and a large seating area and a stage. A brilliant elf show takes place here a few times a day. Upstairs is a small Angry Birds playground my kids loved using the slide to get back downstairs.
The magic sleigh ride was a big hit with my sons; it's a short ride through Santa's workshop. Then it was on to meet Santa, a bubbly elf greeted us and ushered us into see Santa. Santa was lovely and had a great chat with my little five year old Cillian about tractors as he wanted one for Christmas. We also visited the Elves workshop where the kids got to make their own Elf Christmas decoration there's even a calligraphy school, ice cream shop and an Elf school where two of Santa's best elves taught us how to peek in windows without being seen among a few other required Elf skills. Lastly we visited Mrs. Gingerbread Bakery where we decorated gingerbread.
Don't let anyone tell you that Lapland is a once in a lifetime trip! We're going back again next year and possibly the year after that to include some the things we didn't get a chance to do like spend more time in Rovaniemi city centre learning about its people and culture, visiting the Arktikum Science Museum and doing a Northern Lights safari.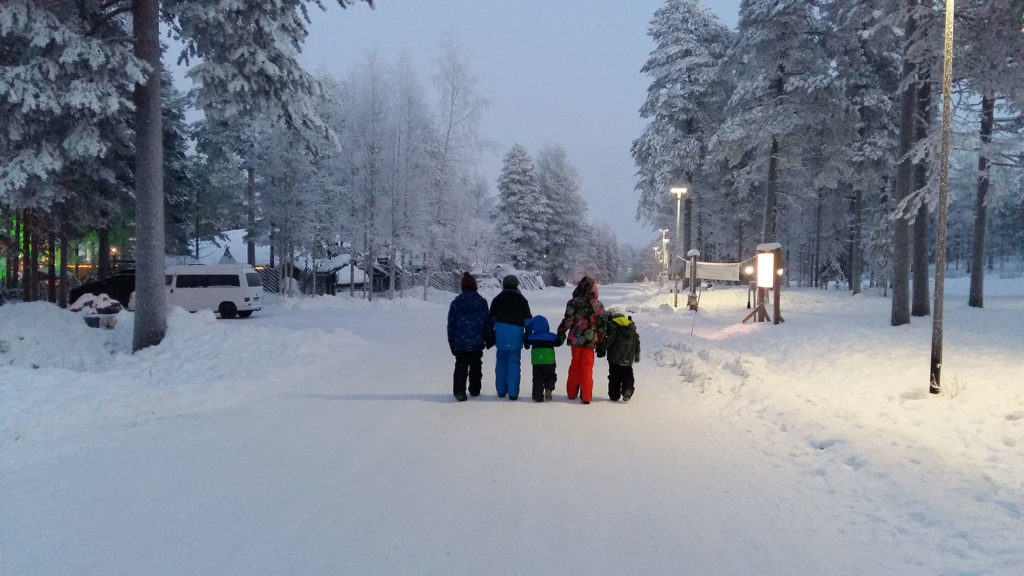 Do you know what I learned from our trip? I learned that Lapland isn't just for visiting at Christmastime; it's very impressive to visit any time of the year with or without kids!
Corrina Stone is an Irish travel blogger with a stellar reputation for sourcing the best trips very little money can buy. A young mum to five children under ten, she is well known for her detailed and incredibly helpful blog posts as a standing travel contributor to CherrySue Doin' the Do. Corrina has been featured in print media & regularly speaks publicly at conferences & workshops, she is renowned for her inspirational talks.