features
Hiking in Rovaniemi: Explore Dozens of Epic Day Hike Destinations
Rovaniemi area is a versatile playground for day hikers and outdoor-minded people. Explore rugged wilderness and old pine and spruce forests, climb to a top of an ancient mountain, fjell, and wander in relaxing sounds of nature. You'll find more than hundred lean-to's and altogether hundreds of kilometers of marked hiking trails around Rovaniemi. Many of them are located within walking distance from Rovaniemi city center, like many trails at Ounasvaara. Nearest national park, Pyhä-Luosto National Park, is one and a half hours drive from Rovaniemi. One hour drive to southeast and you'll be in Auttiköngäs, where you can listen the sound of a rapid and have a stress-free day in a rare, ancient forest. Arctic Circle Hiking Area in Rovaniemi northeast is another easy-access destination for day hikes. 
Könkäiden Trail – A dayhike destination for friends and families
Könkäiden trail leads to a diverse set of Lappish landscapes. The trail is well equipped but also well known – it's a popular day hike destination among Rovaniemi-locals. You'll find many lean-to's, a wilderness hut, an observation tower and outhouses on the trail. The trail connects two forceful rapids of river Raudanjoki, Vikaköngäs and Vaattunkiköngäs. The trail between the rapids is approximately ten kilometer's long in one direction and it offers various landscapes: Two steep rapids, spectacular peatlands and the Kivalonaapa meadow culture trail, to start with. It doesn't matter from which end you start your hike – both Vikaköngäs and Vaattunkiköngäs have a parking lot, but if you wish to explore the trail to one direction only, plan beforehand your transportation back to the starting point. Remarkable parts of the trail is covered with duckboards which makes hiking easy. At Vaattunkiköngäs there's a collection of lean-to's at the beginning of the trail. The area is excellent choice for family hikes – the lean-to-yard can be accessed also with prams. From Vaattunkiköngäs you'll find also the Könkäänsaari accessible nature trail.
Ounasvaara  – The most easy-access outdoor destination of all sports
Located only 15 minutes walk from Rovaniemi city center and on the east side of the Lumberjack's Candle Bridge, Ounasvaara is a famous sport resort and day hike destination. It's a playground for many outdoor activities such as trail running, mountain biking, Nordic skiing, disc golf and traditional golf, to start with. It's without a doubt the most easily accessible outdoor destination in Rovaniemi – Ounasvaara winter trail starts a few hundred meters after the Lumberjack's Candle Bridge. Follow the trail and you'll find the Ounasvaara observation tower from where you can see the city of Rovaniemi. There's a lean-to located next to the tower. The winter trail is marked with a snowflake-symbol. In addition to winter trail, the other well-known and clearly marked trails are Ounasvaara nature trail (cone symbol) and Rollo MTBOfficial, that is a mountain biking trail marked with bike symbol. Rent a mountain bike or electric mountainbike from Roll Outdoors, Lapland Safaris or Santasport.
Wander in a forest full of Christmas trees
Planning to visit Santa Claus Village in Rovaniemi? During snowless time, there's a starting point of a short nature trail that leads to Santa Claus forest and its thousands Christmas trees. Just descent under the tunnel under E4 and you'll be at the starting point. The nature trail winds through a swamp, a piece of rugged wilderness and sparkling green forest leading to the gate of Santa Claus forest. Both locals and travellers have planted thousands of Christmas trees into the forest and marked the planted sapling with it's date of planting and planter's birthday and name. Four benches and sheltered lay-by wait you in the middle of the forest. The length of trail is 1,5 kilometers to one way.
Watch world-class sunset at Kuninkaanlaavu (King's Lean-to)
On the top of Santavaara hill, 7,6 kilometers north from Rovaniemi city center, lies maybe the most iconic place in the city: Kuninkaanlaavu (King's Lean-to). Made of logs, King's Lean-to is a shelter built on the rocky side of the hill with breathtaking view over river Ounasjoki. King's Lean-to is accessible year-round, just follow the path in snowless time and rent for example snow shoes in winter time. The photogenic lean-to is a destination in many safaris in Rovaniemi.
Visit the enormous Devil's churns
The Devil's churns in Rovaniemi are one of the biggest in Finland. In the village of Rautiosaari, 22 kilometers south from Rovaniemi city center, you'll find 14 devil's churns with three very deep ones – At the feet of the rock the diameter of the churn is eight meters and it's 15 meters deep.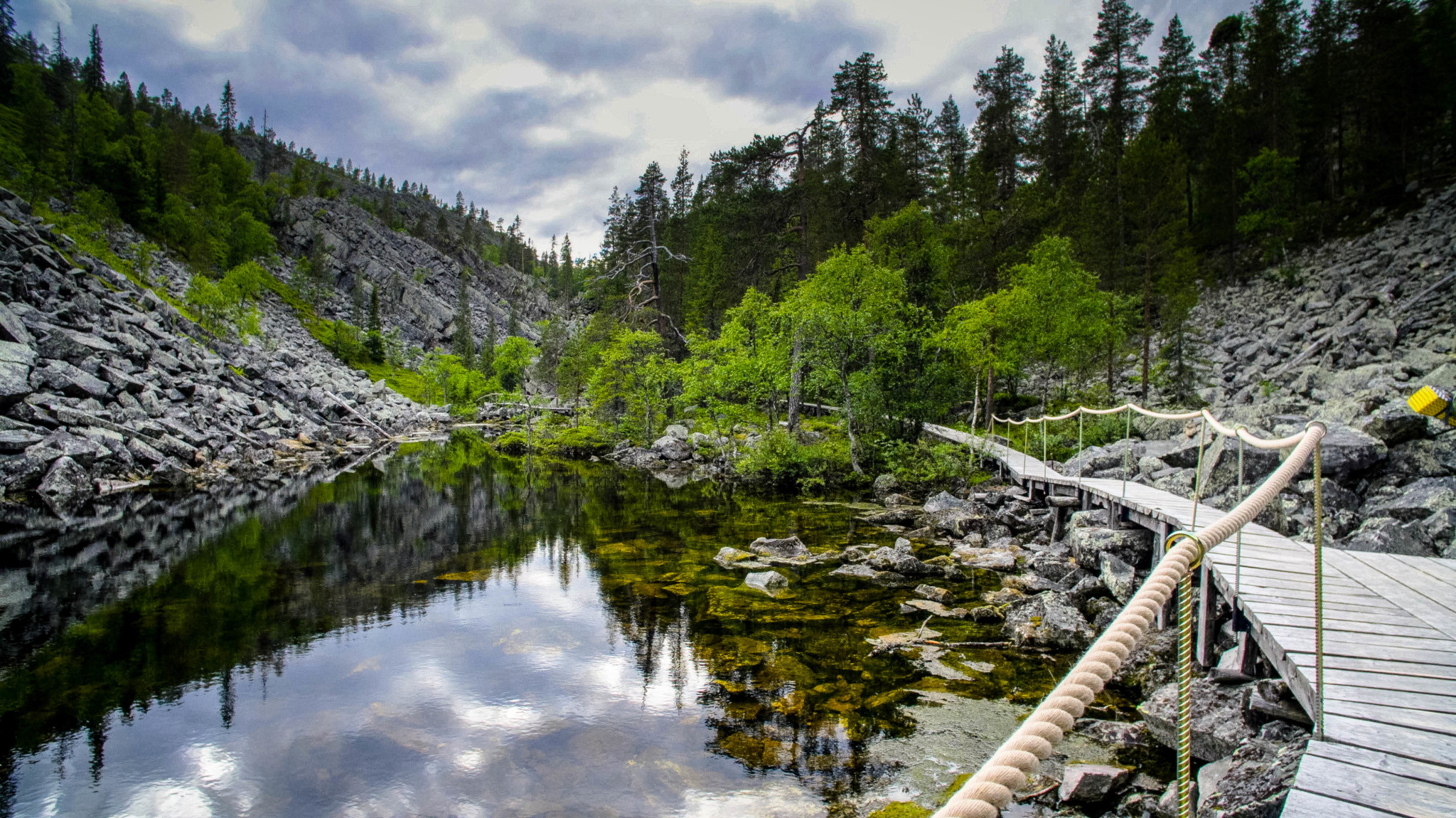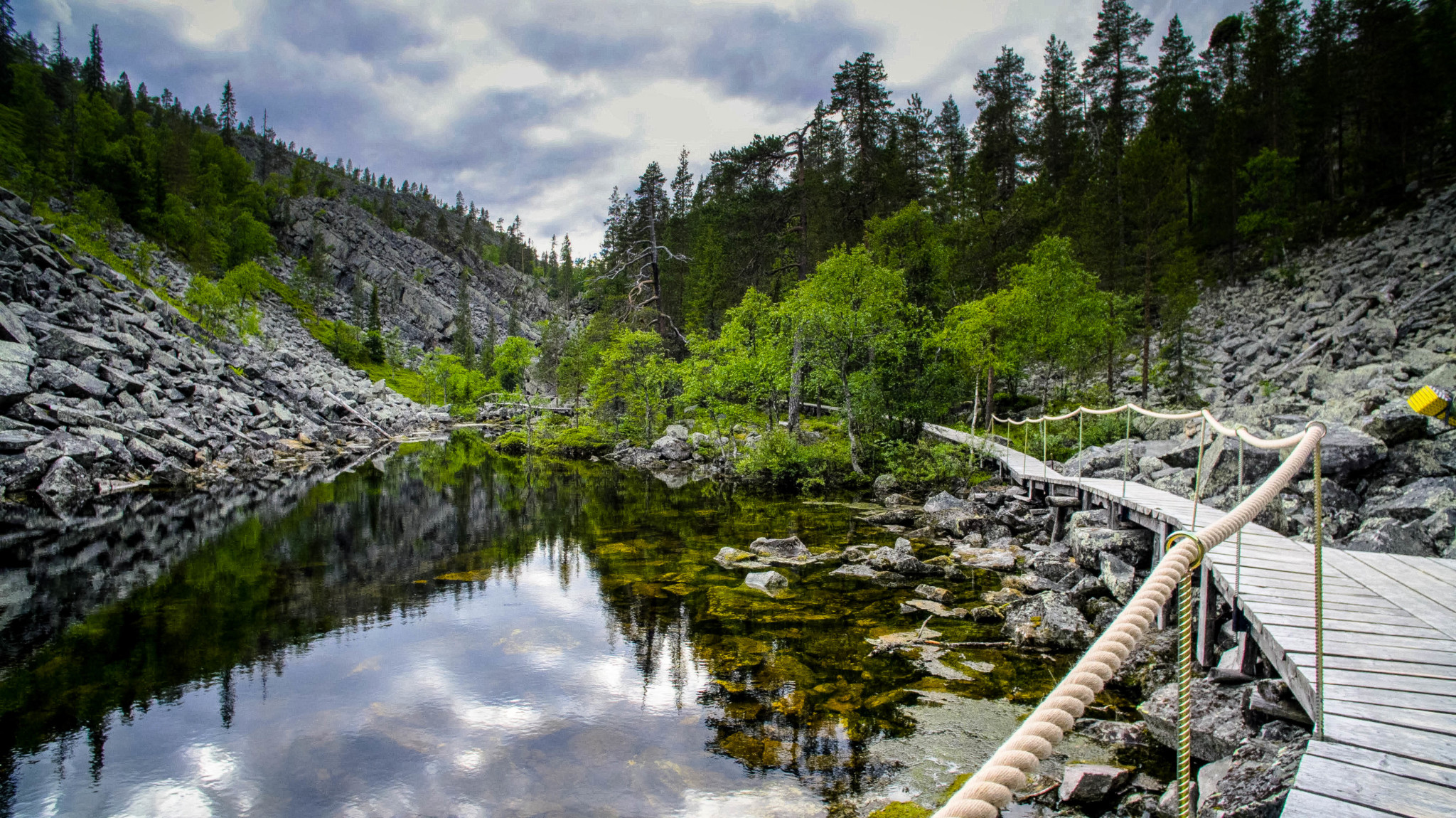 Spend a day discovering Pyhä-Luosto National Park
In the west rises fjell Ukko-Luosto, in the east ancient Pyhätunturi. Another identifiable landmarks of Pyhä-Luosto National Park are, for example, the mythical Noitatunturi (Witch fjell) and Isokuru gorge (Big gorge) that are sometimes described as one of the most impressive landscapes in Lapland. The national park has multiple routes and marked trails that are suitable either for day hikes or overnight hikes. Find more info and maps from Pyhä-Luosto Visitor Center Naava. There's also a marked mountain biking route in the park with bike rental services. Pyhä-Luosto National Park is one and a half hours drive from Rovaniemi city.
Listen the sound of a rapid and explore ancient forest in Auttiköngäs
Located approximately 80 kilometers from Rovaniemi city center you'll find Auttiköngäs with its famous rapid and old taiga forest. Despite relatively long drive, Auttiköngäs is indeed in Rovaniemi – Rovaniemi is the biggest city in Europe in terms of the size of the area. It takes about an hour to drive to Auttiköngäs, but the place is worth it. Auttiköngäs nature trail winds through spectacular pieces of old Finnish forests. Observation tower is located along the route – climb to it, and you'll see a sea of green trees. Auttiköngäs is a year-round day hike destination. In summer time there's a cafeteria, in winter time it's better to put snow shoes on. If you wish to explore the place with a guide, please check your options from our selection of summer hiking trips in Rovaniemi.
DAY AT KOROUOMA CANYON NATIONAL PARK & AUTTIKÖNGÄS FALLS
Provided by Sunny Safari
DAY AT KOROUOMA CANYON NATIONAL PARK & AUTTIKÖNGÄS FALLS
Korouoma is millions of years old fracture valley in the bedrock. At the center of the valley, it forms a magnificent gorge that drops over 100 meters below its surrounding terrain. It is the main place for ice climbing in the winter but offers much beauty throughout all seasons. During the summer and fall seasons […]
Auttiköngäs Waterfall Tour
Provided by NortsaV Tours create opportunities to experience genuine Lapland.
Auttiköngäs Waterfall Tour
Auttiköngäs is a dream-come-true destination for day trip visitors! Easy hiking in beautiful nature by the valley of river Kemijoki.
Auttiköngäs & Korouoma Waterfalls Summer Hiking Trails
Provided by Arctic Circle Snowmobile Park
Auttiköngäs & Korouoma Waterfalls Summer Hiking Trails
Enjoy with us two of the most breathtaking Hikings in Lapland!
Visit amethyst mine and walk in the old forest of a national park
Provided by Arctic Joy
Visit amethyst mine and walk in the old forest of a national park
During this adventure you will get to dig up your own sparkling gem and enjoy the feeling of magical old forest