features
Experience Rovaniemi with Kids – Activities, Playgrounds And More
Rovaniemi, the Official Hometown of Santa Claus, is a place where kids' and like-minders dreams come true. From the Arctic Circle you'll find Santa Claus Village with its magical sights and attractions, reindeer, sled dogs, and of course Santa Claus himself. In Rovaniemi, kids can participate activities and in winter play with snow. This article introduces children-friendly activities in Rovaniemi – some of them run seasonally – you can't slide on snow unless there's snow on ground – but many of the activities operate through a year.
Santa Claus Village – a place where the magic happens
Santa Claus is quite obviously a main reason for many to visit Rovaniemi. About ten minutes drive from Rovaniemi city center you'll find Santa Claus Village, a place of magic and excitement. Start your visit by meeting the bearded man himself at Santa Claus Office (Santa Claus meets people there every day!) and continue from there to Santa Claus Main Post Office, where you meet the post elves and write and send Christmas cards. In winter, let your kids try mini-snowmobiles in Arctic Circle Snowmobile Park.
Find all activities related to Santa Claus from here.
Step into Santa's home cavern
Underneath the Arctic Circle lies the Christmassy world of SantaPark, the home cavern of Santa Claus. Join Elf School and earn your own diploma, decorate cookies with Mrs. Gingerbread and visit Ice Gallery. SantaPark can be reached by Santa's Express bus from Rovaniemi city center.
Meet the reindeer
Reindeer are in Rovaniemi always – in summer time, you might even spot them cooling off by Kemijoki river, on the beach nearby the Lumberjack's Candle Bridge (Valdemaris' beach). Orbas family is a Rovaniemi-based reindeer herder family that provides authentic experience of what it is to be a reindeer herder nowadays in Lapland, Finland. There are many reindeer farms that operate year-round. The easiest way to meet the reindeer is probably in Santa Claus Village, where Santa Claus Reindeer's reindeer are almost every day.
Find all activities related to reindeer from here.
Play with husky dogs and go dog sledding
The furry friends of hours, Siberian and Alaskan huskies in Rovaniemi, can be met year-round in the many kennels of Rovaniemi. Join Safartica's Family Day and you'll get a chance to take the best family pictures with huskies and slide on tobogganing slide. In winter, dog sledding is available also at Arctic Circle Husky Park and Bearhill Husky's office in Santa Claus Village. In summer, join example Bearhill Husky's two hours kennel tour and learn how the dogs and their mushers spend their days.
Find all activities with husky dogs.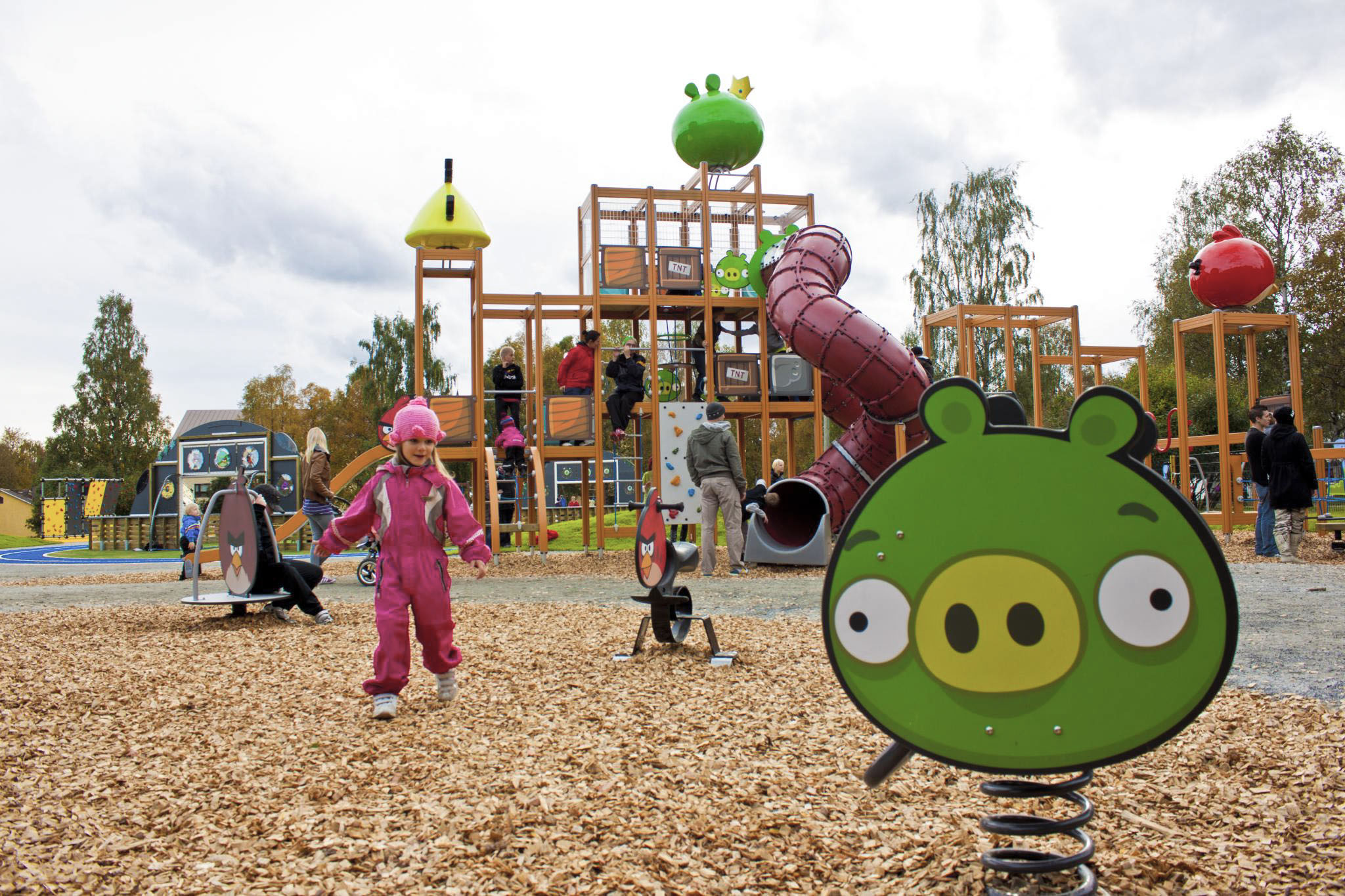 Angry Birds Activity Park – For Children of All Ages
Located almost in the city center nearby river Kemijoki, Angry Birds Activity Park provides features for young and older kids – even for adults. Features include a ropewalk, slides, swings and climbing frames that all are in style of popular angry birds. Naturally, there's a sandpit too. You'll also find space for ball games and running races for small children. The place is a meeting point of visitors and Rovaniemi locals and it's free of charge. Angry Birds Activity Park can be accessed in winter time, too, but often with limited access to playground's equipment.
Ounasvaara + Santasport = sport and spa
If you visit Rovaniemi in winter, snow is probably the funniest part of your trip in Lapland, Finland! Why not to learn a new skill like alpine skiing or cross-country skiing? Ounasvaara Outdoor Resort's professional ski instructors can teach anybody to ski. Located also in ski resort, Rendi's Snow World is a small slope that has a "Magic Carpet", aka lift that takes everybody up easily and safely. That makes it an excellent place to start skiing.
In summer, rent a cross-country bike or a downhill bike and ride down along Bike Park's marked trails, or enjoy the spectacular Lappish landscape from the Summer Chair Lift. Also, summer bobsleighing track on the Ounasvaara hill is an activity to try over and over again.
After a day outdoors (that's quite a normal case in Rovaniemi) it's time to relax in Santasport's spa with the whole family.
Discover Rovaniemi with kids: Children-friendly activities
Many activities can be scaled to be suitable for kids. To start with, Roll Outdoors has small mountain bikes that kids can ride. Safartica's small floating suite allow kid to join floating experiences in a wilderness lake and most of the safari companies have small overalls for winter activities to provide for the kids. In summer, boat rides and SUP board safaris are suitable for kids. Professional local guides make sure that the experience is safe and comfortable for all its participants.
Make handicrafts
Lapland has culture of making things with your own hands. In Rovaniemi, you have a chance to participate learning the culture. Try LAURI's Children Friendly Handicraft Classes or Apukka Resort's Finn for A Day –experience that teaches the basic survival skills for Finland: making fire, fishing and digging the worms from soil, and of course preparing "vihta" from birch branches.
Say hello to animal friends
Polar bears and about 50 other Arctic species wait you in Ranua Wildlife Zoo. You can see how the various Arctic species have adapted into the changing seasons in their most authentic atmosphere. In summer, meet the cutest alpacas on summer Wednesdays.
In Rovaniemi, located at the north corner of Santa Claus Village, Elf's Farm Yard has bunnies, sheep and baby reindeer. That soft combo makes anybody happy!
On a rainy day, play like never before
Yes it's true: weather is sometimes bad in Rovaniemi. However, I doesn't mean there's nothing to do. RolloHalli and HopLop are like huge indoor playgrounds, where the whole family can have fun. The science exhibitions of science center Arktikum and Pilke interest kids for sure!
Book your tour now
Midnight Hiking with Huskies
Provided by Husky Park
Midnight Hiking with Huskies
Let's go for a walk in the forest with huskies at night!
Arctic Animals Combo Safari
Provided by Nordic Adventures
Arctic Animals Combo Safari
It's a Arctic Animals Adventure! Meet the magnificent Arctic Animals on our sweet combo adventure. Ride a reindeer sleigh and take a husky sleigh ride through winter landscapes.
Santa Village & Arctic Animals Combo Adventure
Provided by Nordic Adventures
Santa Village & Arctic Animals Combo Adventure
What would you do if you wanted to experience an ultimate winter adventure? Well, of course, you would visit Santa's village and try husky and reindeer sleigh rides! Join us for a Santa's village guided tour meet Santa and let loose on a husky and reindeer sleigh ride! This all happens at our unique Santa […]
Husky Farm Visit
Provided by Raitola Reindeer and Husky Farm
Husky Farm Visit
Come and meet our furry friends at the farm! Learn how the life is here in Raitola and try a little quick spin husky ride with our Alaskan huskies. As a passenger you can just sit back and enjoy the speed, total length of the ride is about 800m. You will get to take photos […]