COVID-19
TRAVEL SAFELY AND READ THE LATEST INSTRUCTIONS

Updated 7.6.2021
Latest updates on travelling to Finland 
According to the restrictions by the Finnish Government leisure travel to Finland (from countries with more than 25 new cases of the disease per 100 000 persons in the country in the previous 14 days) is not allowed, at least until 27th of June 2021 and until the new health security measures under preparation have been made sufficiently available.
As of 19 September Finland welcomes leisure travellers from countries with maximum of 25 new cases of the disease per 100 000 persons in the country in the previous 14 days without mandatory testing or quarantine. Leisure travel from countries with more than 25 cases / 100 000 persons is not allowed.
Finnish health authorities will review countries' infection rates weekly. The Finnish Institute for Health and Welfare's traffic light model shows which countries it is possible to travel to Finland from.
On 3 June, the Government decided to extend the restrictions on entry into the country until 27 June 2021.
---
Situation update on coronavirus in Rovaniemi 7 June
At the moment, Rovaniemi is at the baseline level of the coronavirus epidemic. Updated information about coronavirus situation in Lapland and related news you can find from the Koronaturvallinenlappi.fi website. The website is maintained by the Lapland Healthcare District, Länsi-Pohja Healthcare District and House of Lapland
---
Safety information for travellers arriving at Rovaniemi in Finnish and in English (9.2.2021)
Guidelines for travellers by Finnish institute for health and welfare
Practical information for travellers to Finland by Visit Finland
Traveller's guide to coronavirus safety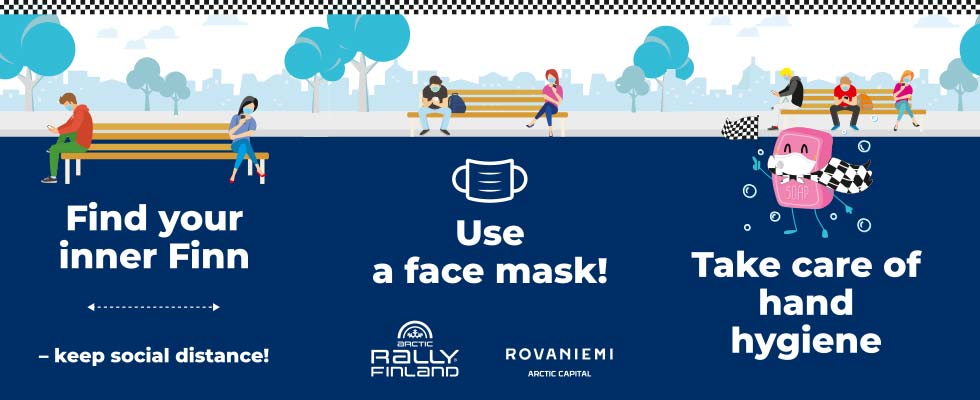 ---
Guidelines for travellers in Lapland
DOWNLOAD THE KORONAVILKKU APP
Koronavilkku is a contact tracing app produced by the Finnish Institute for Health and Welfare (THL) to help you find out whether you may have been exposed to coronavirus. If you have a coronavirus test and are diagnosed as infected, you can use the app to share this anonymously with those you have been in close contact with. Your privacy is strongly protected.
TAKE CARE OF HAND HYGIENE: Make sure you wash or disinfect your hands many times a day. 

COUGH IN THE CORRECT WAY: Cough or sneeze into a disposable handkerchief or your own sleeve.
FACE MASK: It is recommended to use face mask:

In shops, shopping centres, libraries, office buildings, theatres, museums and restaurants, other public indoor areas, public transport and other similar situations where close contacts cannot be avoided.
The mask recommendation also applies to universities, upper secondary schools and vocational educational institutions. The strong recommendation applies to both staff and students.
When meeting friends and relatives, those at risk and their guests are recommended to wear a face mask when safety distances cannot be maintained.
Passengers arriving in Finland from a risk area making their way from the place of arrival to quarantine or if they have an urgent reason to spend time outside the home during quarantine.
When leaving home for a coronavirus test.
The use of a surgical nose and mouth face mask is recommended.
The recommendation applies to citizens who are 12 years old or more.
The use of a face mask shows consideration! 

MAINTAIN A SAFE DISTANCE OF 2 METRES AT ALL TIMES: 
Adhere to social distancing rules in shops and public gatherings outdoors and indoors.
MONITOR THE SITUATION:
Please monitor how the situation develops, follow the guidelines and act responsibly. Find coronavirus announcements here.
TRAVEL: Travelling to areas where the coronavirus is in its spreading phase should be avoided.
IF YOU THINK YOU MAY HAVE BEEN INFECTED WITH THE CORONAVIRUS FOLLOW THESE STEPS

Anyone with the slightest symptoms of a coronavirus infection are adviced to seek a laboratory test. The symptoms can be: fever, cough, sore throat, shortness of breath, muscle pain, fatigue, runny nose, nausea, diarrhea.

You do not need to book an appointment, you can go straight to a test
The tests are free of charge
The tests are free for visitors of Rovaniemi too:

The Mehiläinen drive-in testing point is available at Sairaalakatu 1. The testing point is open Mon-Fri 7.30-14.30 and Sat-Sun 8.30-11.30. You don't have to make an appointment. You can arrive by car, but also by walking or by bike.
The Terveystalo testing point is located in the Revontuli shopping centre (Koskikatu 27). The testing point is open Mon-Tue 7.20-14.00, Wed-Fri 7.20-13.00, Sat 9.00-11.30.
Stay isolated until you receive the results of the test.

+358 (0)16 322 4800 / Emergency care at Lapland Central Hospital

NATIONWIDE EMERGENCY NUMBER: 112

QUARANTINE: If your coronavirus disease has been confirmed, stay in quarantine for at least 14 days.
PLEASE STAY HOME IF YOU'RE SICK,  EVEN IF YOUR SYMPTOMS ARE MILD